Scotland have called up Edinburgh winger Lee Jones for the Glasgow Sevens
Edinburgh winger Lee Jones has been added to the Scotland Sevens squad for the Emirates Airline Glasgow Sevens.
Last Updated: 02/05/13 8:11pm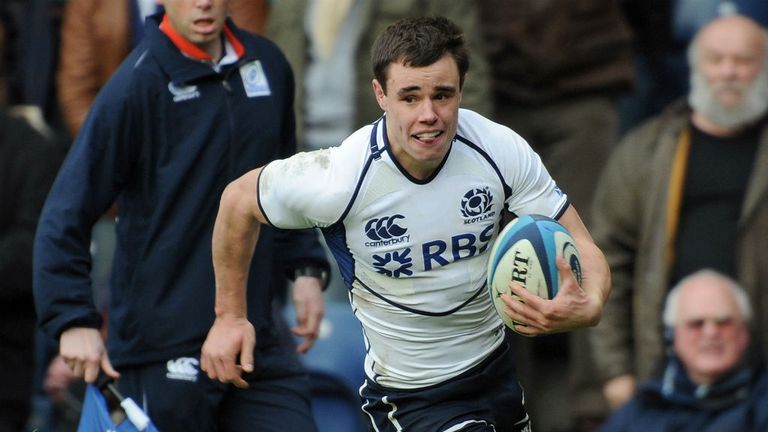 The 24-year-old has been capped four times by the full national team, however he has been freed to play in the penultimate leg of the HSBC Sevens World Series.
Jones will be joined in the 12-man squad by Alex Glashan asnd Glasgow Warriors centre Byron McGuigan.
Scotland coach Stephen Gemmell said: "In the 12, we have named an established group of players, who have played regularly on the circuit for a number of years now. Andrew Turnbull, Colin Gregor, Scott Riddell, Struan Dewar, Colin Shaw and Michael Fedo.
Experience
"Also, John Houston who has recently come on board. He is in a much better place with sevens now becoming a full-time member of the squad.  
"Michael Maltman and Chris Dean have been involved in the last four tournaments, since I came back, and have performed very well and Alex Glashan has done very well to return from injury. He has trained hard over the past two weeks and deserves his inclusion in the squad.
"On top of this, Lee Jones and Byron McGuigan, who both made their name in Scotland through sevens, give us experience and ability from our senior international team and a successful Glasgow Warriors squad, respectively.
"Selecting the 12 hasn't been easy we have released our top try scorer in the past two years, James Fleming, and Lewis Young has been training very well.  But, I'm basing my decisions on the balance of the group and their performances in training because this is a massive tournament as we're at home and fighting relegation.
Scotland Sevens: Chris Dean, Struan Dewar, Michael Fedo, Alex Glashan, Colin Gregor (captain), John Houston, Lee Jones, Michael Maltman, Byron McGuigan, Scott Riddell, Colin Shaw and Andrew Turnbull.