David Denton hopes to impress on Scotland's tour of South Africa this month
David Denton is relishing the prospect of a physical battle when Scotland tour South Africa.
Last Updated: 01/06/13 3:04pm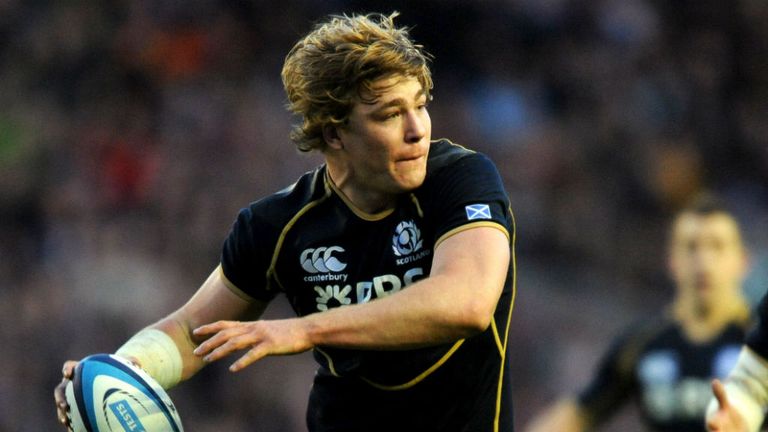 The Scotland squad flew out from Edinburgh on Friday bound for Johannesburg ahead of a four team tournament, which will see them come up against the host nation, as well as Samoa and Italy.
Interim head coach Scott Johnson has named a number of uncapped players in the group but Denton made it clear Scotland fully intend to come out on top as they seek success to build upon in the quadrangular competition.
The Edinburgh forward said: "It's going to be massively physical. We are going to play on hard ground, against big hitters, big people.
"That suits my game down to a tee so I'm looking forward to it and I'm sure the rest of the guys are as well.
"Johnno said from the get go that his selections were going to be based on form in future. It's about building a team but we are going out there to win.
"He's not selecting people who don't deserve to play just because they are young; he's selecting the best players.
"It just so happens that those guys are young. I'm really looking forward to the challenge and so will all the other guys be."
At the age of 23, Zimbabwe-born Denton is just one of the prospects for a future he believes is bright for the Scots.
Potential
He said: "There is no doubt, and it's been said before, about how much potential this team has got.
"We've got a lot of young players, particularly on this tour, that actually have a wealth of international experience now.
"There are a few of us at the age of 22, 23, who have played a few games and it's just making sure that we learn from the right people."
The Scottish Rugby Union announced earlier in the week that Vern Cotter is to become Scotland's next head coach when his contract with Clermont Auvergne ends in June 2014.
Denton welcomed the appointment, saying: "He's done really well with his club team so I'm looking forward to him joining us.
"It's always nice to change things up a bit. I think bringing him in is going to be great, along with the senior players that we have.
"Hopefully now we can get that consistency through to the World Cup.
"It's been great working with Johnno and he's still going to have a big involvement with the team, which is great.
"I think he has been a real benefit to Scottish rugby."