Scott Johnson: Scotland will blood new players in the Six Nations
Scott Johnson insists Scotland will keep blooding new players while fighting for a Six Nations foothold.
Last Updated: 22/01/14 3:26pm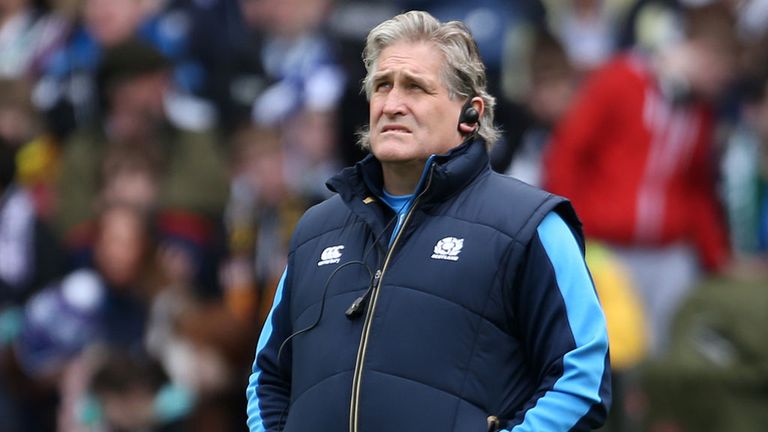 The caretaker head coach wants to continue expanding the country's pool of talent with international experience as he prepares for next year's World Cup.
"We'll always make sure they are equipped to do it physically: we don't want to go to a gunfight with a water pistol," said Johnson.
"We're not the finished article and we get that. What we need is a good base to pick from, and good mileage on the clock by the time we get to the World Cup. But we're setting up a team to compete in this tournament."
Confident that Scotland can also stamp their authority on the Six Nations, Johnson challenged his side to heap "scoreboard pressure" on opponents.
"If we get good consistency then in parts of our game we can beat anyone on our day," the Australian said. "If we're consistent we have a good chance.
"The game is split up into a 60-minute game and an 80-minute game. If we're into the competition at 60 minutes the scoreboard pressure suits us.
"If we keep being there and knocking on the door, the door will open. We're not far from a couple of big scalps here."
Johnson's approach to blooding new players has already had an impact on captain Kelly Brown, whose position in the team has changed and come under threat.
But the coach said Brown understood. "I was clear I went to spoke to Kelly about it; I had to be honest with him," Johnson said.
"We have competition for spots. Every captain here would expect no different from their team."
Scotland kick off their Six Nations campaign against Ireland in Dublin on February 2 with the arrival of Clermont coach Vern Cotter, to head up their management team, looming.
He is due to start with the national team in the summer and will be Johnson's superior.
However, Johnson insists he will continue to have a significant input. He said: "I'm still here come the summer, people forget that. I'm here now and I'll still be here then.
"I had a choice of a position, and I chose to be part of this organisation moving forward. We've been talking with Vern and I'm looking forward to working with him more closely: it will be nice to have help arriving."