Six Nations: Scotland flanker Chris Fusaro promises aggressive Calcutta Cup display
Chris Fusaro will use the aggression and intelligence that are the trademarks of his game on his Scotland debut.
Last Updated: 08/02/14 10:53am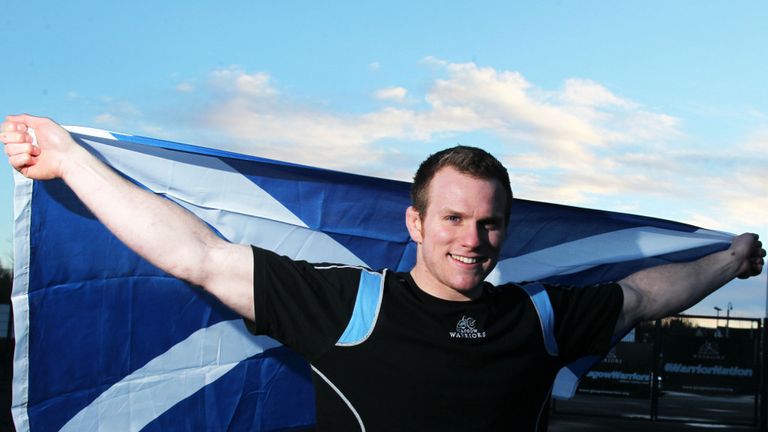 The Glasgow back row is the surprise selection for the Dark Blues, replacing skipper Kelly Brown in the number seven jersey.
Fusaro is five inches shorter than Brown, who has paid the price for a poor display in the Scots' 28-6 loss to Ireland last Sunday, and will bring a different quality to the Six Nations clash at Murrayfield.
"My size used to give me a bit of concern when I was younger, given the position I play," said Fusaro, who will make his international debut at the age of 24.
"But having played for Glasgow the past few years, I've learned to use my aggression to make up for my lack of size. I need to do that because I'm not as heavy as some of the guys I'm up against.
"Against England though, it can't all be about physicality, you have to use your brains. We had a team talk on the pitch at training and Greig (Laidlaw) made it clear to us that the top two inches were the most important.
"Playing smart with controlled aggression and physicality is all important against England but I think that's the type of player I am."
'Ground feeder'
Head coach Scott Johnson admitted taking Brown was a difficult decision to make but that Fusaro's handling skills may prove vital in the Calcutta Cup game.
The Australian said: "It was certainly one of the hardest decisions I've ever had to make as Scotland head coach, because there is a human side to this job.
"We are in the people's business and if you don't care for people you shouldn't be in it. I care for him and it was a tough decision.
"He's a guy I admire but it was the right decision. Using my vernacular, Chris is a ground feeder. He's low to the ground and plays below a lot of people.
"The ball will be on the ground a bit and he reminds me of the type of player back home.
"His regional form has been good. I've asked him to change some things and to improve some things in his game and has done that, so he deserves his run out."