Six Nations: Max Evans knows Scotland must improve performances quickly
Max Evans admits Scotland's players are frustrated as they look to avoid the Six Nations wooden spoon.
Last Updated: 12/02/14 12:39pm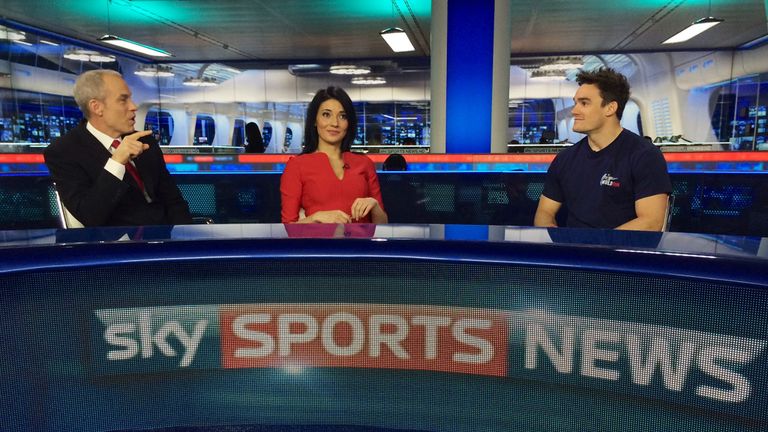 Evans was part of the Scotland team beaten 20-0 in the Calcutta Cup at Murrayfield on Saturday, coming off the bench after being dropped from the starting XV easily beaten by Ireland the week before.
They share bottom spot in the table with Italy and it is the winless Azzurri who provide their next opposition on February 22, a game that is likely to decide who ends the tournament in last.
"The guys are pretty frustrated at the moment," Evans told Sky Sports News.
"As a professional rugby player you want to go out, regardless of the result, and give a good performance and that's not something we can really say we've done in the first two games.
"We've got a tough game coming up against Italy in Rome so it's a big focus to put on a good performance there.
"The worst thing about (the Calcutta Cup) was that we didn't put up the performance we wanted. It's an exciting game and that wasn't really what it was (for us).
"It's easy to complain about things like the pitch. There's a disease on the pitch at Murrayfield which restricts play in some ways, but we had a game plan and didn't pull it off effectively.
"England had their game plan and executed it better so it was disappointing for us.
Massive history
"Scottish supporters have stuck behind us. We've got a slogan at the moment "Backing Blue" and that's something we feel as players on the field. I love playing there, it has a massive history, and we want to start giving back to the supporters with a good performance and we're not doing that at the moment."
Max and his brother Thom are ambassadors for Wings For Life, a foundation that funds research into curing spinal cord injury.
The charity means a lot to them both, with Thom having been forced to end his career with a serious neck injury suffered while making his 10th appearance for Scotland.
"Tomorrow (Thursday) is the anniversary of Thom's injury against Wales and he was one of the lucky ones, in some respects. He was very close to being paralysed," he said.
"It's an injury that can happen in any walk of life and there is more potential for injury outside of sport, such as traffic accidents and falls, so we want to raise awareness and funding because scientists do believe it is possible to cure spinal cord injury, and be able to regenerate nerve cells.
"There is a big run, the Wings For Life World Run, on May 4 which is 36 races around the world all starting at the same time (British race starts at 11am at Silverstone). There is no finish line.
"You start the race and about 30 minutes later there is a Catcher Car that starts - when it catches the last person that's the race over. There will be a UK winner, a world winner and it's exciting - a good idea to raise money and awareness."