Six Nations: Scotland boss Scott Johnson defends Stuart Hogg after dismissal
Scotland boss Scott Johnson refused to condemn Stuart Hogg despite the full-back's reckless red card.
Last Updated: 15/03/14 10:58pm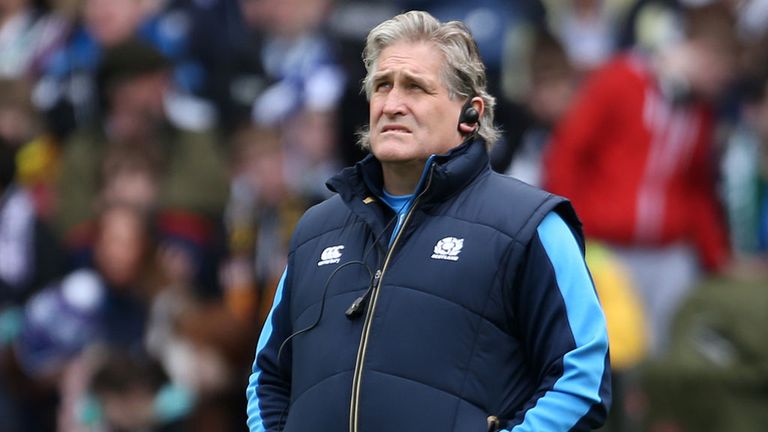 Wales racked up their best ever win against the Scots after Hogg was dismissed 23 minutes into the final RBS Six Nations match of the season for throwing his shoulder into home fly-half Dan Biggar's face.
Warren Gatland's men enacted their own ruthless revenge as they ran in seven tries in a 51-3 win as Hogg's absence allowed the floodgates to open.
But Johnson - who will be replaced by Vern Cotter this summer as he becomes Scotland's new director rugby - insisted British and Irish Lion Hogg's act of stupidity was out of character.
He said: "Stuart might be many things, and one of them is a great character, but he certainly isn't a dirty player, that's for sure. He's already been in to apologise to Dan Biggar and the referee. Its so totally out of character for him.
Difficult
"He's really down about it. He's taking it tough. He's an emotional lad and that emotion is a good thing, and in this case he is feeling he has let the boys down. He's got to face reality that he has been caught doing something, he's got a proper tribunal to front and show his case. So he's in a dark place but that's just life. He has got to confront it."
Asked if the sending-off was the turning point, Johnson said: "It wouldn't have been the same result, as in the scoreboard. I thought we were in the contest but full-back is a hell of a position to fill for that length of time. If it's a forward you can cover it but it's harder to cover a back division player, and once they were on a roll they played some pretty good rugby, too. But it felt like there was a lot of field to cover and was difficult for us."
Hogg was initially shown a yellow card before French referee Jerome Graces saw the incident on the big screens and upgraded his punishment to red.
But Johnson refused to take umbrage with that unusual decision.
"I work on the theory that they are paid to do their job," he said. "As soon as I saw the yellow I was thinking of something else. I can only do what is put in front of us there, so the judicial stuff I'll leave - my job is to compete on the back of that. He's a good referee and a good adjudicator."
Giving his view on Hogg's dismissal, Wales coach Warren Gatland said: "You've got to feel sorry for Stuart because he is not that sort of player at all..
"It is a rush of blood, and he's made a mistake.
"From our point of view, we are not going to dwell on that. I don't think you will see that from him again.
"He has made a mistake. It's a collision sport. From our point of view there are no hard feelings."