Kearney: It's good to be back
Ireland's Rob Kearney admitted it was a "huge relief" to make his comeback from a serious knee injury against Scotland.
Last Updated: 07/08/11 1:38pm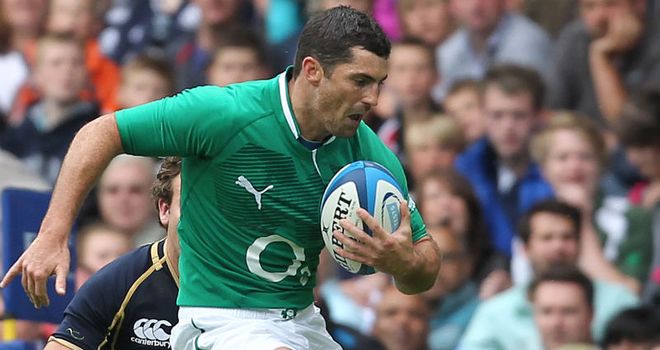 Rob Kearney admitted it was a "huge relief" to be back playing again, even if he couldn't prevent Ireland from slipping to defeat against Scotland.
The British and Irish Lion marked his comeback from a serious knee injury by playing the full 80 minutes in the World Cup warm-up match at Murrayfield.
It was the Scots who came out on top by a 10-6 scoreline, though for Kearney the most important thing was just to be back on the pitch again after so long on the sidelines.
The full-back had not played since last November having sustained cartilage and ligament damage in action for Ireland against New Zealand.
Nervous
"It's a huge relief to be playing again. I'd been nervous all week - I don't usually get nerves beforehand," said Kearney.
"I came across some big obstacles. The result wasn't what we wanted but from a personal perspective it was good to get through it.
"I felt really good at times, but was blowing at other times. All in all I was happy and felt pretty comfortable.
"I've come back from injury before where you try to do something magical, but my main focus was to do the basics right and make as few errors as possible.
"I was pleased with the way it went, but if I'd had a shocker I wasn't going to judge myself too much.
"Likewise if I had a stormer I wasn't going to get over-excited either.
"I don't know if I'll be playing every week, but I'd love to play every week."
Ireland coach Declan Kidney had not planned for Kearney to finish the match, but the 25 year-old was delighted with the way his left knee responded to the work out.
Collisions
"When I saw (substitute) Felix Jones on the line I wasn't happy to be going off, but I thought maybe that was for me," he said.
"During the week I'd prepared for 60 or 70 minutes, maybe a little foolishly.
"Then I'd got cramp towards the end for their try. I was a little bit surprised I got through the full 80 and was given the full 80.
"But the knee feels brilliant, which for me was the most important thing.
"There were a couple of tackles and contact situations where I thought 'it's nice to be back'.
"You appreciate those collisions again in a strange sort of way."
Kearney gave his jersey to team physio Brian Green after the match.
"Brian's been fantastic over the last nine months. When you're injured you're out in the cold a little bit at times," the Leinster player added.
"You only have your rehabilitator to whinge down the phone to and throw your strops with. He was brilliant. It was just a small gesture. I just wanted him to know how much I appreciated everything he'd done."