O'Connell - Our own fault
Ireland captain Paul O'Connell believes his team only had themselves to blame for the defeat to Wales in Dublin.
Last Updated: 05/02/12 7:29pm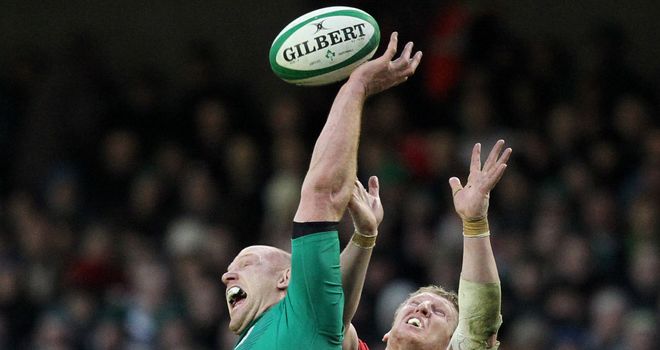 Ireland captain Paul O'Connell believes his team only had themselves to blame after seeing their Six Nations Grand Slam and Triple Crown hopes shredded on the tournament's opening weekend.
The hosts led 21-15 when Tommy Bowe scored 12 minutes from time - a score that followed hooker Rory Best's earlier touchdown - but North's late effort after two Jonathan Davies tries gave Wales a dramatic victory.
"We gave Wales a lot of ball earlier in the game that we shouldn't have done," O'Connell said.
"We put ourselves in a position to win the game, and we conceded eight points in the last five minutes.
Intensity
"We also conceded a lot of momentum in the first-half and gave them a lot of belief. We struggled to get into the game in the first half, and you can't give a team that length of time with ball in hand.
"Defensively, we will have some work to do. We conceded a lot of ground and yardage at times, but when we attacked, we played with intensity."
Asked about the late penalty award following Ferris' tackle, O'Connell added: "Stephen hasn't said a lot.
"I was right beside it, and I didn't think there was a problem straightaway, but I haven't seen it on video. I don't think that was the winning and losing of the game."
Ireland now have just a six-day turnaround before facing Six Nations title favourites France in Paris, and O'Connell said: "We have plenty of experience in the group, and we will recover to the best of our ability.
"We need to be patient and trust our defence."
Improve
Ireland coach Declan Kidney said: "Three teams have had their Grand Slams ended this weekend, and three teams are still in. That is the nature of it, but there is a championship still to be won.
"We will take a good look at what we can solve ourselves. We gave Wales some easy field position, and they made inroads.
"We had to defend for 60 per cent-plus of the game, and if you do that then you are going to ask for trouble. There are different aspects of the game I know we can improve on.
"They managed to put the ball wide on us, and we need to scan a bit better than we have been doing. It is just a case now of getting ready for the next match in six days' time."