Results frustrate Bowe
Tommy Bowe says that Ireland should still have a perfect record three matches into their RBS Six Nations campaign.
Last Updated: 08/03/12 10:18pm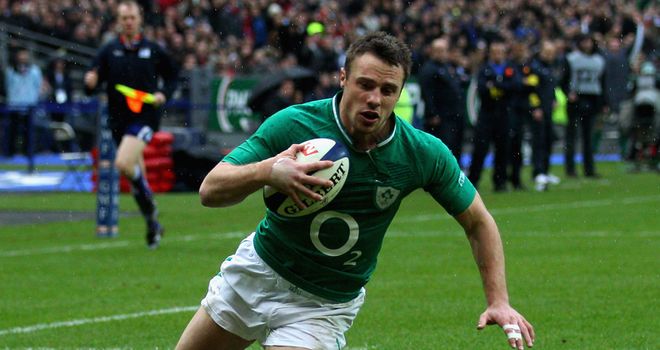 Tommy Bowe says that Ireland should still have a perfect record three matches into their RBS Six Nations campaign.
Ireland's title hopes were damaged by their opening-weekend defeat to Wales and faded almost completely with a draw against France in Paris on Sunday.
Against Wales they suffered defeat thanks to a last gasp penalty and were pegged back by Les Bleus after enjoying a comfortable 17-6 lead at half-time.
And Bowe believes that his side should have been able to close out the win in both matches, accepting that Ireland only have themselves to blame for the disappointing results.
"We're not far off but we should be up there competing for a Grand Slam," the 28-year-old said.
Lead
"We had a good lead against Wales and France but let them go. We should have put them away and the fact we didn't is down to us.
"We went to sleep at times during the second half against both of them. We haven't put in a full 80-minute performance. We're disappointed about that but we have two huge matches coming up now.
"There are world ranking points to play for (in the final two games), but in the players' minds it's about producing two big performances.
"It's frustrating because we've put ourselves in good positions, but didn't really finish it off. We have nothing to complain about.
"We have the potential. If we were with our provinces it would not be good enough, so we must put our hands up and do better."
Ireland will be hoping to register back-to-back wins at Aviva Stadium for the first time when they face Scotland on home soil on Saturday.
Pressure
The winless Scots will be looking to relieve the pressure on coach Andy Robinson and they boast a good recent record against Ireland, winning two of the last three meetings between the sides.
"We've had trouble with Scotland over the last couple of years," Bowe said.
"Just look at the way they're playing in the championship so far - they have the highest number of offloads and line breaks. They have a couple of really exciting players who can cut us open."
Bowe scored two tries at the Stade de France on Sunday, but insists he would have swapped the personal accolades for a victory.
"It's nice to get a pat on the back but I want to be part of a winning team," he said.
"I'd prefer to be a cog in a winning team than scoring a few tries in a losing team. I was delighted to score two tries against France, but if it doesn't result in our first win in Paris for 12 years then it doesn't mean too much."