Baby Blacks end Wales hopes
Wales Under-20s failed to repeat their earlier win over New Zealand as the Baby Blacks hit back at the Junior World Championship.
Last Updated: 18/06/12 7:40am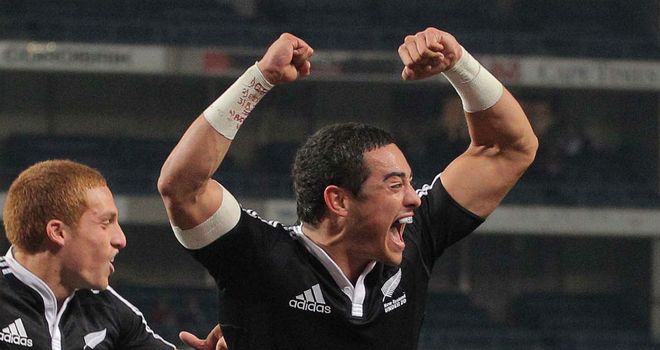 Wales Under-20s failed to repeat their earlier win over New Zealand as the Baby Blacks hit back in the semi-final of the IRB Junior World Championship.
Wales had become the first team to beat New Zealand in the tournament's history as they came out on top 9-6 in the pool stage.
However the four-time champions booked their place in the final as they recorded a 30-6 win.
Wales had led 6-0 via two penalties form Tom Prydie but that is as good as it got for Wales as New Zealand ran in four tries to secure their place against South Africa - 35-3 winners over Argentina.
Wales coach Danny Wilson said: "We are proud of the boys, there was no lack of effort but at the end of the day, we are disappointed. We were beaten by a better side on the day, their breakdown was better than ours, but we certainly didn't perform as we have in our other matches in the tournament either.
Determined
"Our accuracy was quite poor, we didn't take the opportunities we had, whereas New Zealand took theirs. We had a real go at playing some rugby in the second half, but again, we weren't accurate enough to put pressure on a good team.
"The score line is far from a disgrace against the four times champions, but the players have already stated they are determined to go out on Friday and win our final match to finish third in the world. That is something no other Welsh team has done and we will prepare as well as we have done for every other game in order to do that."
Ireland also avenged a pool defeat as they beat England 27-12 in their fifth-placed semi-final.
Ireland will now face France, while England, who scored tried through Chris Walker and Henry Slade, will take on Australia in the seventh-placed play-off.
England captain Walker said: "We're frustrated with the result, ultimately we gave ourselves too much to do. I felt like we had a lot of possession, particularly in the second half, but a few too many errors sneaked into our game and that's what has cost us.
"We still have Australia to play and that's a game we're desperate to win. We'll review this game before focusing all of our attention on them and hopefully doing the Rose proud."