Jamie Heaslip admitted his yellow card had probably been the catalyst for Ireland's defeat to South Africa
Ireland No 8 Jamie Heaslip shouldered much of the blame for his side's 16-12 defeat to South Africa on Saturday.
Last Updated: 11/11/12 8:15am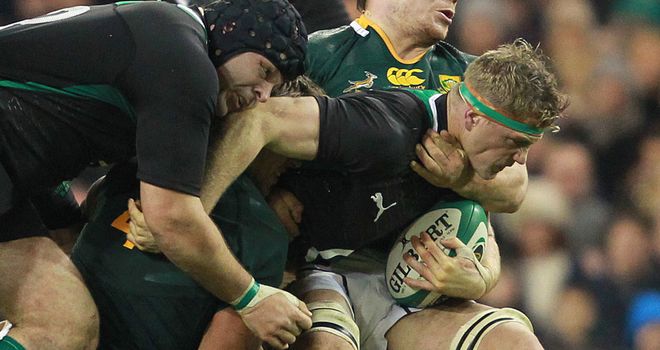 The Irish were leading 12-3 when Heaslip was shown a yellow card for collapsing a maul in the 32rd minute and the Springboks scored 10 points in his absence.
"We started well in the first half and built up a good lead," Heaslip said. "We came out in the second half and as captain I should lead by example, but being yellow-carded wasn't a good example.
"I put my hand up straight away when we came in afterwards. I'm a better servant on the field than off it."
The result was a fifth successive Test defeat, their worst run since 1998, and follows their 60-0 drubbing by New Zealand in June.
Head coach Declan Kidney said: "The last game in the summer was unacceptable. This is a step forward in terms of bringing guys through, but we're here to win matches.
"That's what we get judged on and that's what we have to do. You don't pull on the jersey to come second.
"They got better field position and then started their mauling game. They smothered the ball for long periods of time and then we didn't get fast ball when we were in the positions we wanted to be in.
"We lost the game, but four new guys won caps and they'll gain from this experience. This is a tough learning curve and we need to get something out of the match against Argentina here in a fortnight's time."