Craig Gilroy was delighted after his dream Test debut for Ireland against Argentina
Craig Gilroy was delighted after his dream Test debut helped Ireland earn a record 46-24 victory over Argentina.
Last Updated: 25/11/12 2:17pm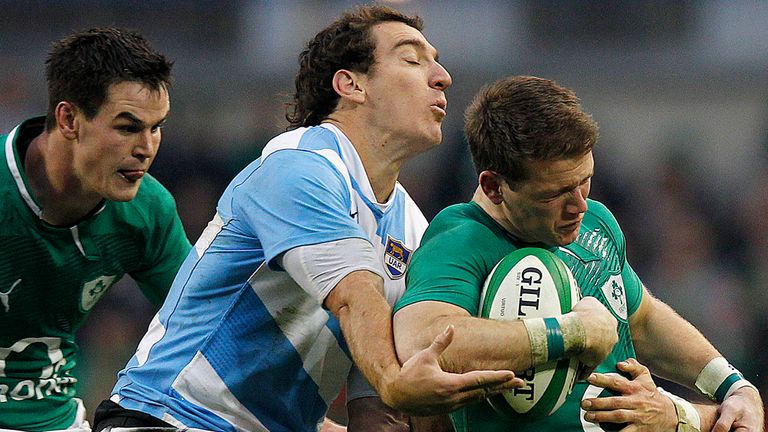 The 21-year-old Ulster winger ran in a try and helped create three more in a seven-try rout of the Pumas.
The vital win guaranteed Ireland a place among the second seeds for the 2015 World Cup, ended a five-Test losing streak and afforded embattled coach Declan Kidney some breathing space.
Gilroy's top performance earned comparisons with famous Irish wingers Simon Geoghegan and Denis Hickie and even identified him as a potential bolter for next summer's British & Irish Lions tour to Australia.
He said: "I was eager to take my chance because who knows when it will come again. Past players said your first cap is special, just enjoy it. They said it just flies by and it does, but there are also moments I won't forget.
"It felt surreal. I couldn't believe I was there. Once you've had a taste of it you want more.
"Declan spoke to me after the game and congratulated me. He told me to keep my feet on ground. He was happy with me.
"This is a big confidence boost and, while I can't get ahead of myself, it's good to know I can perform at this level."
Wracked
Gilroy admitted he was so wracked with nerves before the game that he considered driving back to Belfast.
"This was my first cap and then there was the rankings issue on top of that, so it was a huge game for Ireland," he said.
"I was extremely nervous to the point where I thought about jumping in my car and driving back to Belfast! I was more nervous than I'd ever been.
"But I'd received loads of messages from family and friends and they said don't put any more pressure on yourself, just be yourself and enjoy it.
"That's what I did and it was those messages from friends and family that settled the nerves."
Upon crossing at Aviva Stadium on Saturday, the new star of Irish rugby was mobbed by his team-mates - evidence of his popularity and their own relief.
"Being surrounded by the whole team just after scoring that try is a moment I'll never forget," he said.
"That's the sort of moment you think about when you get into the team. It was euphoria, it was amazing.
"For my try I saw a gap and thought 'it's on'. The rest just happened... I couldn't really control it. I started stepping and I was over."