Brian O'Driscoll is desperate to remain fit for Ireland and the Lions
Brian O'Driscoll is optimistic he can stay remain fit for a potentially huge six months.
Last Updated: 03/02/13 2:45pm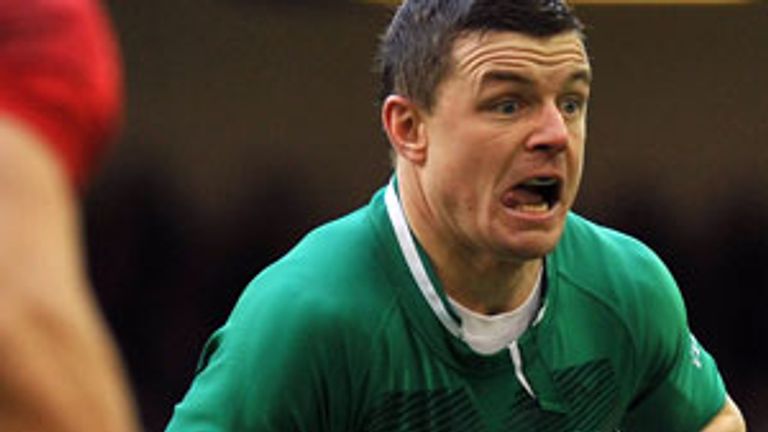 O'Driscoll scored one try, created another and led a spirited Irish defence during a man-of-the-match display at the Millennium Stadium.
And the 34-year-old Leinster centre, who missed Ireland's autumn internationals with an ankle injury, hopes injuries will not scupper his hopes of ending his career with another Six Nations crown and a fourth tour with the British & Irish Lions this summer.
"Who doesn't like man of the match? They are few and far between these days, but when they're there you enjoy them," he said.
"The big thing is trying to be fit and getting as close to 100% fit as you possibly can when you take to the pitch.
"I felt good against Wales, my ankles both felt good, as did all the other bumps and bruises.
"If you can start games that way you have every chance of putting in a half decent performance."
On Ireland's triumph in Cardiff, O'Driscoll said: "It was a very physical game, real Six Nations stuff which you expect when you come to Cardiff.
Stop the rot
"We'd lost the last three to Wales and we just felt as though we needed to stop the rot.
"It's a great day, a good start for us in this Six Nations. It puts us in a good place with England to come next week.
"This championship's about momentum. If you lose the first you're in trouble, if you win you're in a good spot. We have to build on this.
"The understanding from winning the Grand Slam in 2009 is that even when you're not great, you have to be good. Consistency will be the key for this Six Nations."