Ireland centre Brian O'Driscoll believes Paddy Jackson will rise to the challenge
Ireland centre Brian O'Driscoll believes Paddy Jackson will rise to the challenge of facing Scotland.
Last Updated: 22/02/13 4:00pm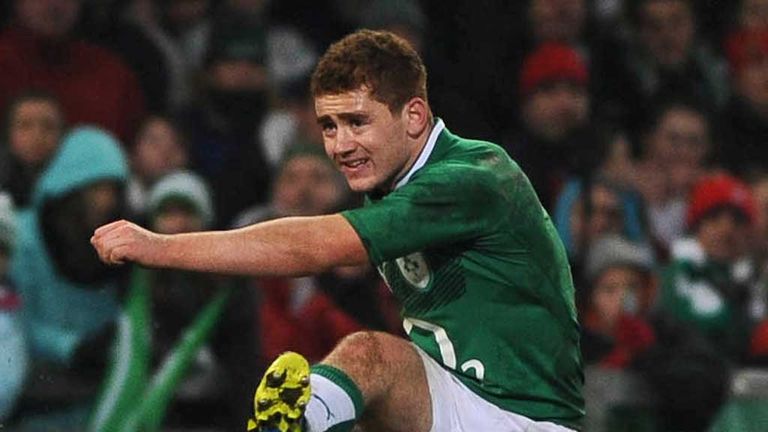 Jackson, 21, beat Ronan O'Gara to the fly-half vacancy after Jonathan Sexton suffered a hamstring injury - and O'Driscoll believes the Ulsterman will shrug off the memory of an indifferent display in last year's Heineken Cup final.
"I heard Paddy talking about the learning curve from the Heineken Cup final," said O'Driscoll. "In fact, I think some of the stuff written about him in that game was very harsh. He really didn't have that off a game.
"There were a couple of skewed kicks, but that was the extent of it. He did the fundamental things like tackling well. He passes the ball nicely and takes it to the line.
"He was an easy out for people. Not that he got scapegoated, but some of the pressure put on him and things written about him were unfair. And that's coming from someone who was playing against him.
"That was eight months ago and you've seen his performances throughout the year. It certainly hasn't affected him in any way, shape or form and he deserves his opportunity.
"He's said he's learned a huge amount from that and has come back and shown a great ability to play what he sees in front of him. That's an exciting aspect to his game - he's a heads-up footballer and isn't afraid of having a go himself."
Jackson's Ulster colleague Luke Marshall has also been selected to replace Gordon D'Arcy, and Marshall quipped ahead of the game that he has been studying O'Driscoll's game since the age of nine.
O'Driscoll added: "Luke probably didn't realise what a massive insult to me that was! It's crazy to think that you get to play with guys who were watching you at that young age.
"That's the cycle of rugby - everyone moves on and different players get different opportunities for a variety of different reasons. Gordon D'Arcy is out injured for the rest of the competition and that gives Luke the chance to lay down a marker and impress the coaches.
"I've been impressed with what I've seen from him. He's a quiet, fairly
unassuming lad who works hard and listens, and that's all you can ask for."