Declan Kidney says Paddy Jackson not to blame for Ireland defeat
Coach Declan Kidney shielded Paddy Jackson from criticism following Ireland's 12-8 defeat to Scotland at Murrayfield.
Last Updated: 25/02/13 6:42am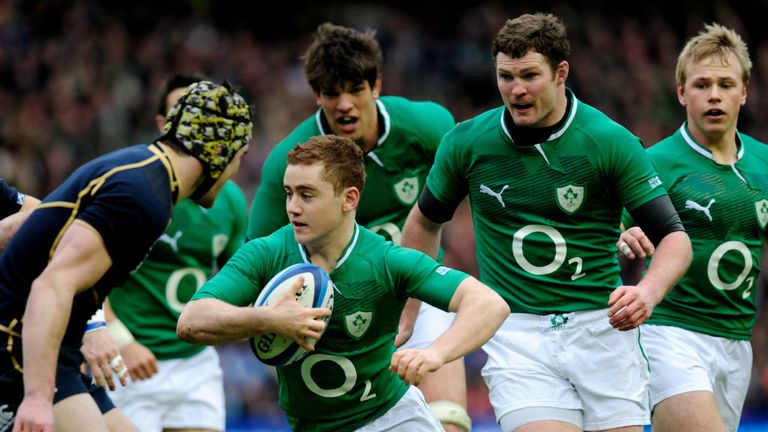 The debutant missed three kicks at goal - eight points' worth - which could have turned a tight game decisively in Ireland's favour.
The Ulster star had an afternoon to forget and was replaced by Ronan O'Gara with 20 minutes to go, though the veteran fared little better.
Kidney insists the whole team, plus the coaches, need to take responsibility for the defeat and for failing to turn the lion's share of possession into points.
"It is about taking your opportunities. We created several for ourselves but didn't manage to convert them enough to be ahead of Scotland's penalty count," he said.
"I think it is too easy to put it down to that (Jackson's misses). Paddy's general play was good. He helped us get a few line breaks and his kicks down the line put us in a good field position. He had the courage to go for those, which is a good thing.
"His place kicking didn't go the way he would have liked but some days go like that. It's too easy to point the finger at that. Overall his general play was good.
"We created a lot of try-scoring opportunities and if we had put those away...
"Obviously their place-kicking went to a far higher stat than ours and that is something we regret, but we did do a lot of positive work as well in attack. We just didn't manage to finish it off."
Kidney accepts that he and his staff are going to come under criticism following their second defeat of the championship.
"There always is," he said. "But it is just about getting ready for the next game in two weeks' time (against France).
"That is what the role is; whether you win, lose or draw it doesn't matter - it is all about getting ready for the next game.
"We created opportunities today. I will take a good look at myself and get the others around me to critique everything that I'm doing, as well as them too, because nobody is immune from this."