Ireland and Lions star Brian O'Driscoll to retire in 2014
Brian O'Driscoll says he will retire from rugby when his new contract expires at the end of next season.
Last Updated: 22/05/13 10:32am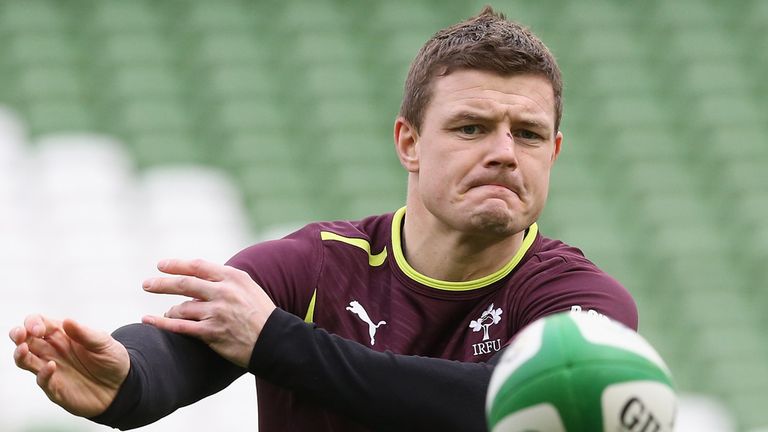 The former Ireland captain signed a one-year extension with the IRFU last week, ending speculation surrounding his future.
However, O'Driscoll told the Irish Times he will only play for one more season.
"I really am not ready for a year of speculation," he said. "It is going to be just the one. I can't handle that in every interview that I do.
"I know with my wife, I did agree to do just one more. I did say as well when I was talking about a World Cup, that means three pre-seasons. I don't have another three pre-seasons in me."
O'Driscoll, who is expected to feature in Saturday's RaboDirect PRO12 final against Ulster ahead of travelling Down Under with the Lions, said he only recently made the decision to continue playing.
Factors
"There were lots of different factors in who was going to come in as national coach," he said, "and then who was going to come in at provincial level.
"From a family situation then in terms of what my wife's set-up was, we've a new baby girl. And also how my body was. All of those factors come into things.
"So it was about weighing up all those options and wondering was I ready to give it up, knowing that I wouldn't be playing anymore and you're a long time retired.
"I just felt that I still had plenty to give to be able to allow myself one more year."
Interesting
O'Driscoll admitted he was surprised at Ronan O'Gara's decision to take up a coaching role with Racing Metro, but believes he will form a good working relationship with Jonny Sexton at the Top 14 club.
He said: "The boys have had an interesting relationship over the last few years but it's grown into a good friendship recently. The dynamic will work well over there."
O'Driscoll also paid tribute to O'Gara, who retired as the record points scorer for Ireland and in the Heineken Cup.
"There's very few guys that you'd be willing to put your life on but he's definitely one of them," he said.
"He backed himself right to the very end and I think that confidence has stood to him over a fantastic career.
"He is without a shadow of a doubt one of the better players I've ever played with."
Watch every Lions game live and exclusive only on Sky Sports. To sign up or upgrade click here