Ireland prop Mike Ross says criticism of Australia scrum is unfair
Ireland prop Mike Ross says criticism of Australia's scrum is unfair.
Last Updated: 11/11/13 5:26pm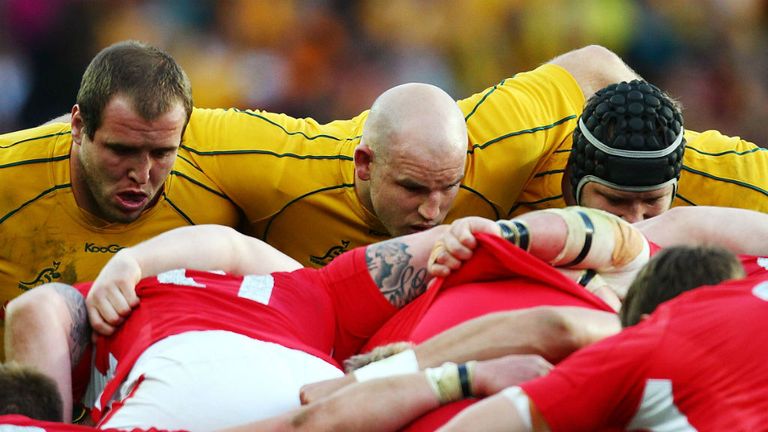 The Wallabies' scrum has been ridiculed for several years, particularly by England whose prop Andrew Sheridan single-handedly destroyed the Australia pack in 2005 and again at the 2007 World Cup.
Ross, the cornerstone of the Ireland pack, has been studying tapes of the Wallabies scrum ahead of their meeting in Dublin this Saturday and he says he has been impressed.
Ross said: "I think they are very good at retaining their own ball. If you look at the statistics most of the times they are sanctioned is on opposition ball, whereas on their own ball they seem to win that fairly handily.
"They have a lot of experience in there - they do get a fair bit of stick but I think a lot of that is unjustified.
"I was watching them against England and I thought they were quite unlucky at times.
"I went through the Italy game too, and they got sanctioned a few times, but at the same time they still put 50 points on Italy.
No easy ride
"It's up to the individual referee of course (how they call the scrum), but most of their sanction is on opposition ball.
"It's probably something for them to look at themselves. But I'm not expecting it to be easy by any means.
"They do have good scrummagers, they do have a heavy pack, so it's going to be a tough battle up front again this weekend."
Ross is wary of Australia's danger men behind the scrum, and says Ireland's tight-five must aim to stop Saturday's visitors at source.
He added: "If you had Israel Folau, Will Genia and Adam Ashley-Cooper in the backs, it would be a shame not to use them.
"If you've got Genia and Cooper operating on front-foot ball it makes things a lot easier for them and far more difficult for us so we've got to go after their set-piece ball.
"You've got to watch Genia like a hawk around the ruck, he can dart and be through and behind you before you know it."