Autumn Internationals: Jonathan Sexton doubtful for All Blacks clash
Joe Schmidt has admitted that Jonathan Sexton's hamstring injury will leave him a big doubt to face New Zealand.
Last Updated: 16/11/13 10:39pm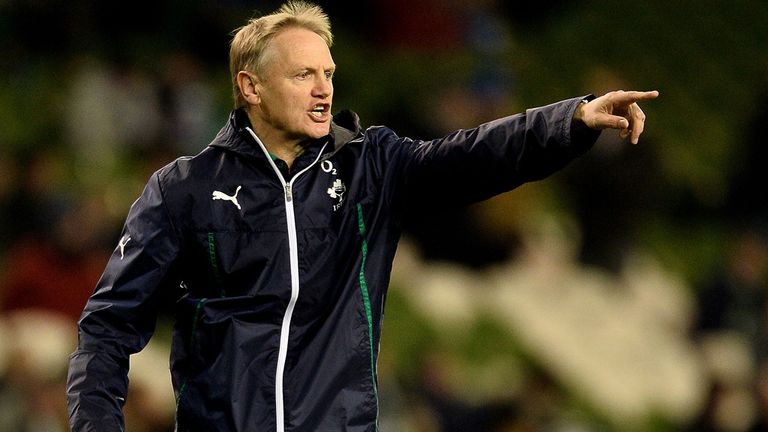 A frustrated Schmidt also conceded Ireland made no progress from their Samoa victory in their 32-15, four-try defeat to Australia.
Admitting Ireland are still a "work in progress", Schmidt confirmed that Sexton must wait for scan results on Monday to discover the extent of his hamstring problem.
Schmidt explained: "He has a hamstring injury, we're just sure of the extent of the injury at the moment.
"To be honest it's too early to tell. He felt it wasn't particularly bad and he pulled up quickly.
"But it's out of our control, we just have to wait and see what happens and wait for the results of the scans.
"We'd given Jonny a weekend off and a refresher and we thought we'd get two big weeks out of him, so it's really disappointing.
"Rob Kearney's not too bad after his knock, someone just landed on his rib and he was sore from something he picked up last week.
"We're pretty hopeful he'll be available for next week."
Australia flanker Hooper claimed a brace of tries, with Quade Cooper stealing in for a cheap score when replacement Ian Madigan and Luke Marshall completely missed him as he ghosted through the midfield.
Cummins finished the other, with Schmidt finding no argument with the loss - citing a "disconnect" between his off-kilter players.
Naivety
"I'll put a few fingers in a few different spots to be honest," he said. "I thought there was a fair bit of defensive naivety, but I did think we came back into the match extremely well.
"It was very hard to get them off the ball, and that made it extremely difficult to get onto the front foot. One of the things that would account for that, Jonny Sexton hadn't trained a lot.
"Ian Madigan didn't really get much of a look-in and then was expected to run the show for the second half. That was a big ask, particularly when they were getting off the line so quickly.
"Because we were squeezed for space we didn't get to pick our kicking options, and that forced us into problems.
"In a game seldom does everything go according to plan, and you've got to be adaptable enough to cope.
"And we undid ourselves at times as well, Conor picked the ball out and one of our own players held onto it. That's part of the disconnect we've got really at the moment.
"I don't think we're any further forward than we were last week after Samoa, and that's a big disappointment, because we want to keep making progress week to week."