Six Nations: Ireland's Jamie Heaslip prepared for the unexpected from Wales
Jamie Heaslip will warn his Ireland team-mate that Wales coach Warren Gatland will have a few tricks up his sleeve.
Last Updated: 07/02/14 3:27pm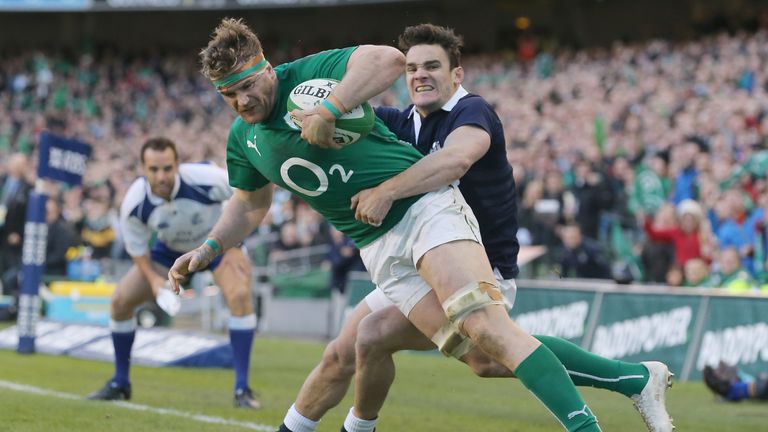 Heaslip played under Gatland on the triumphant Lions tour of Australia in the summer and is well acquainted with the highly-successful Kiwi's methods.
Ireland's Lions contingent worked closely and at length with Gatland, unearthing his most trusted coaching techniques and styles of play.
But the Leinster loose forward is adamant Gatland has kept some secrets close to his chest, to be unleashed for his Wales side in this year's Six Nations, as they chase a record third straight championship titles.
"I'm sure 'Gats' hasn't shown his full hand, across the summer and even into the tournament now," said Heaslip, who will line up for Ireland against Wales at the Aviva Stadium in Dublin on Saturday.
'Pinch of salt'
"Their lads have played enough against (Ireland coach) Joe (Schmidt) through club rugby when he was Leinster boss I suppose, to get a taste of what he could be like.
"But they are not playing against Joe as such, they are playing against our lads.
"You've got to take it with a pinch of salt I suppose.
"It will have a bearing, and perhaps they could gain an advantage from it. But we've just got to be mindful of them producing something different.
"And it's over to us, ultimately. We're under no illusions what we're up
against.
"They've won the championship two years on the hop now. We're going up against a quality side, we've played against them often and with them from the summer.
"They are good players and good blokes, and we expect a tough battle on our hands in that regard. It's definitely going to be a physical game."