RBS Six Nations: Gordon D'Arcy says Ireland hopes still alive despite loss to England
Gordon D'Arcy says Ireland will now turn their attention to beating Italy and France after narrow defeat agianst England
Last Updated: 23/02/14 12:22pm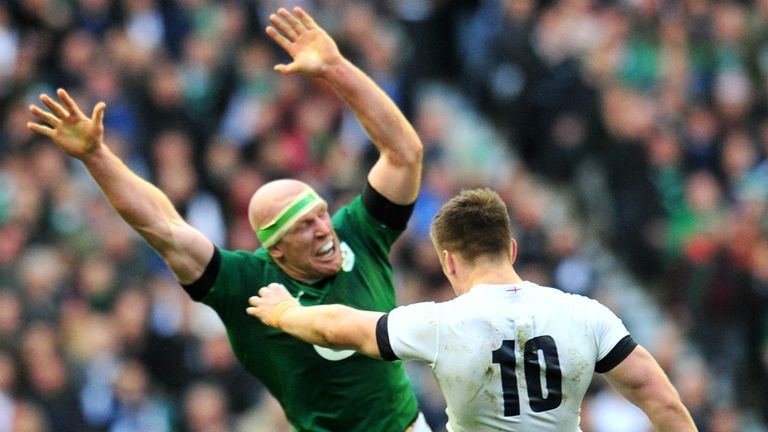 Ireland slipped to a narrow 13-10 defeat against England at Twickenham on Saturday - a result which means there is now a four-way fight for the championship with Wales and Ireland both also in contention.
D'Arcy says Ireland still have their eyes firmly on the prize, insisting the Irish are a vastly improved side under new head coach Joe Schmidt.
"We're a better team than we were eight months ago," he said. "And the chances of a loss like this derailing the rest of the championship for us, there's no chance of that happening.
"With Joe driving that, and Paul (O'Connell), Brian (O'Driscoll), Johnny (Sexton), Jamie (Heaslip) and those guys, they are going to be getting everybody back together.
"We can't change the result but we look at the positives, fix the mistakes and we move forward.
"We focus for Italy and France, then we refocus for Italy, and then we go from there. You want to win silverware, so that's pretty disappointing.
"The whole tournament can be a bit of a game within a game, there's the Triple Crown but also the championship.
Refocus
"We've lost one but we're still in the hunt for the other, so it's not really that easy to think that way at the moment.
"We've got to pick ourselves up after a pretty tough loss, then just refocus on Wednesday and Thursday when we meet up."
Two penalties and a conversion from Owen Farrell ultimately proved the difference between the two sides and D'Arcy insisted Ireland paid the price for a lack of composure at key moments during the game.
"We gave them three kickable penalties and that was probably the difference," said the 35-year-old.
"They were pretty dangerous in broken field and capitalised on a good offload, and maybe a slip at the back of the field.
"But the discipline around the kickable penalties, that's the difference.
"We played pretty positive rugby, we definitely played the more attacking rugby and when you don't get the results from that it can be pretty frustrating.
"We had a couple of scrums on the right-hand side late on and I thought we were definitely going to get something out of it."