Six Nations: Ireland focused on form ahead of Brian O'Driscoll's home farewell
Ireland's bid for Six Nations glory will not be distracted by Brian O'Driscoll's home farewell, insists Jamie Heaslip.
Last Updated: 07/03/14 8:32pm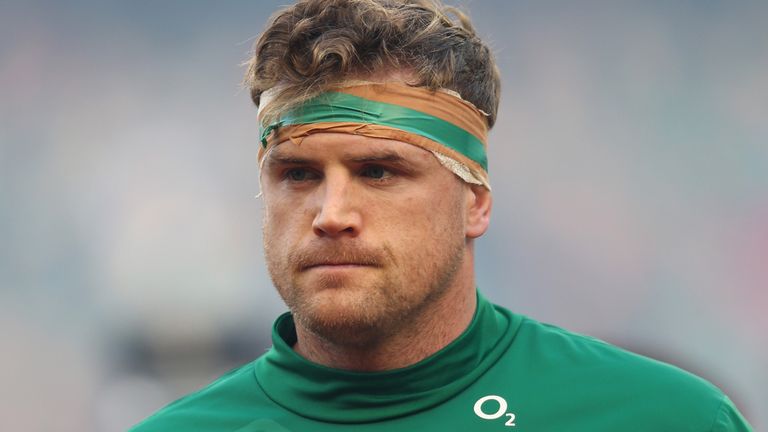 O'Driscoll will make his final home international appearance against Italy in Dublin on Saturday, which Heaslip concedes will be an "emotional" occasion for players and fans alike.
The veteran centre will also break George Gregan's 139-cap Test appearance record at the Aviva Stadium before bringing down the curtain on his glittering career in France next weekend.
But with Ireland still in the Six Nations title race despite last week's 13-10 defeat to England, Heaslip has insisted the squad's focus will not be affected by O'Driscoll's impending retirement.
"I'm sure it will be an emotional day for Brian and his family," said the No 8 after the squad formed an impromptu guard of honour for O'Driscoll as he ran out for Friday's captain's run training session.
"He's given so much for Ireland and for his team-mates, and I've been lucky enough to be his team-mate for the last eight years.
"So I feel extremely privileged to have been able to play so many games with him.
"But it's weird, there's no talk of it amongst the players. He's approaching it like any other game, and to be honest that's what you really expect from a man of his calibre.
"It might be a bit emotional for him, but he's been in a lot of games like this, where it's potentially his last game at home.
Not an issue
"For us it's not an issue, and for him I can't imagine it would be either. He's approached the game the same as always.
"He looks as sharp as ever: he's as focused as ever, he knows exactly what he's doing.
"There's still a lot to be playing for, and that's what we've got to focus on now."
Meanwhile, Ireland assistant coach Les Kiss insisted Italy should not be under-estimated despite opting to rest back-row stars Sergio Parisse and Alessandro Zanni ahead of their tournament finale against England next week.
Kiss played down any suggestion that Ireland were angered by Italy appearing to place a higher priority on their clash with England over the trip to Dublin.
Joshua Furno has moved from lock out to blindside, with Paul Derbyshire starting at seven and Robert Barbieri switching to No 8.
"You look at the blokes they've brought in: they are good quality players," said Kiss. "So we don't look on it as a frustration, we just know this is going to be a massive challenge to manage these guys.
"We've just got a Test match to play, and quite frankly if you look at most teams now, when a player drops out the quality that's coming in to replace them is getting better and better at every level of rugby.
"Look at two weeks ago: Dan Cole dropped out but Davey Wilson moved in. That calibre of player is there all around, and we're getting the same as time moves on."