Six Nations: Jonny Sexton vows Ireland won't get 'bogged down' by Paris history
Jonny Sexton says victory in Paris next weekend would eclipse Ireland's stunning victory in 2000.
Last Updated: 10/03/14 8:19pm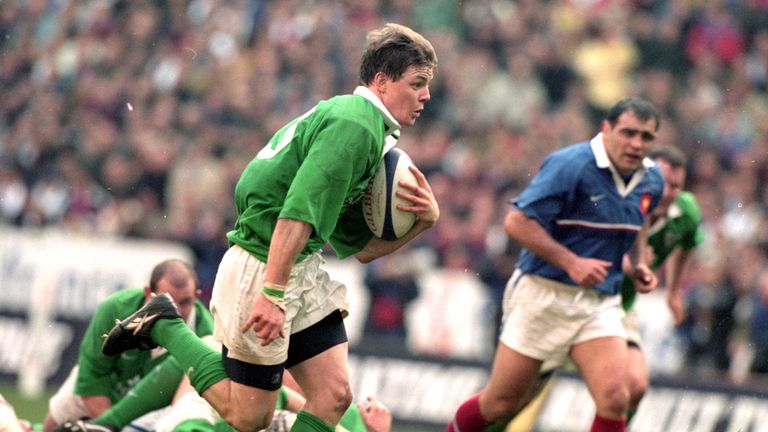 Brian O'Driscoll announced himself to the world with a remarkable hat-trick in Ireland's thrilling 27-25 victory in Paris that day, and he will finish his extraordinary international career in the same city this weekend.
Sexton believes beating the French on Saturday will be an even greater achievement than the magical Millennium match. The 2000 victory was their first win in Paris in 28 years, and they have not managed to triumph there since.
Sexton believes the coaching of Joe Schmidt will make all the difference and ensure O'Driscoll will be given a suitable send-off on the ground where he made his name 14 years ago.
The 35-year-old centre will make his 141st and final Test appearance at the Stade de France on Saturday, with Ireland in pole position to sweep the Six Nations title should they subdue their hosts.
Sexton said: "I think we've got the best coach around; I think we're going to go in with a game plan that everyone trusts.
"I think we're full of confidence, we think that we can go there and do the job. We don't get too bogged down in 'we haven't won there for this long, we haven't done this or that, so on'.
"We'll be very much focused on how we'll beat them with our attacking moves, with the defence we use on the day. The history will be talked about by everyone else, and I think it's better like that for us."
Performance
Sexton won two Heineken Cups, a RaboDirect PRO12 title and the Amlin Challenge Cup under Schmidt's Leinster stewardship.
Now the 28-year-old is confident the schoolteacher turned international coach can deliver again.
"Sometimes when you go into finals, you get so worried about the result that you lose track of what got you there in the first place," said Sexton.
"It will be very much performance-driven. From having worked with all the coaches here before, especially with Joe, having played European finals and Rabo finals, it'll be very much focused on the performance.
"Even though it's a winner-takes-all, it's very much the same as usual. It just shows how difficult it is to go and win there; that's all it shows us.
"It means if we go and win, we'll have earned it and it'll be something to remember. We've a chance to go and make history now.
"It would eclipse what they did in 2000, because there's a trophy on the line.
"We have to be wary of this French team," said Sexton, aware that France can still claim the Six Nations crown for themselves.
"We just had a look at their player profiles, their individuals, and it's pretty impressive, no matter what position you look in.
"We don't know what team they're going to pick, but they're going to be very dangerous.
"I don't think they'd be delighted with the way they've performed, but at the end of the day they're coming into a cup final this weekend.
"They've a championship to play for, the same as us. They haven't set the world alight like we know they can, but we have to be ready for the chance that they do it this weekend.
"They've individuals across the park so you just can't write them off."