Ireland boss Joe Schmidt has a tough task replacing Brian O'Driscoll and Gordon D'Arcy
Peter Stringer believes Joe Schmidt faces a toughest challenge in replacing Brian O'Driscoll and Gordon D'Arcy.
Last Updated: 13/03/14 8:04am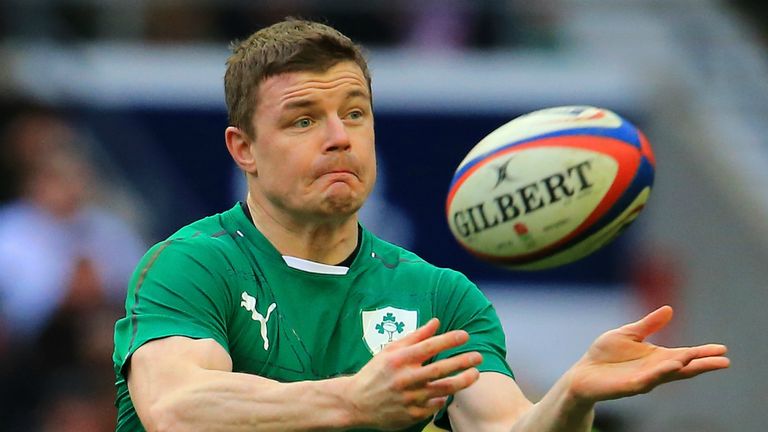 Stringer paid a glowing tribute to O'Driscoll for opting to bring the curtain down on his glittering career in the summer rather than attempt one final World Cup campaign next year.
Veteran centre D'Arcy is expected to play on past the summer, but Stringer is aware the star duo will leave huge voids when they go into international retirement.
But Stringer is also confident that the emerging crop of Ireland youngsters will prove able replacements in time.
"It will be a huge challenge to take it on again," Stringer said. "But in the last few years that core group has started to thin, with guys like Jerry Flannery, Marcus Horan, Ronan O'Gara, John Hayes, all retiring.
Influence
"People were always looking then, saying what are Ireland going to do now, but already they've taken it on to another level with the guys who have stepped in.
"Joe's influence is massive, from what I hear, coming from Paul O'Connell and Brian, the guy's attention to detail is second-to-none.
"The quality of coach Ireland have now is top class, and he's bringing young guys through quickly too. The young guys on the fringes, they will hopefully step up to the mark and things look pretty good for the future.
"Trying to find people that will fill those boots is the next big step within the Irish structure, given they've been there for so long and worked so well together, both at provincial and international level.
"I'm sure Brian will be passing on everything he can. But that will be a vital area for them once both those guys do go.
"I think it makes it an even braver, an even stronger call, to retire at this point, with the World Cup not so far away now.
"I think he's had it in his head that he's gone on a bit longer than maybe he wanted in the first place anyway.
"But you've got to draw the line somewhere and he feels that, he's had a couple of injuries in the last few years, and he just believes it is the right time.
"I'm sure he could go on: he could keep playing and he would be selected.
"But it's a mark of the guy to say 'look, I might not be at my best moving forward, and I'm not going to put my country in that position where I'm still asking them to select me'.
"So you've got to respect him for his decision."
Stringer was capped 98 times in his 11-year Ireland career after making his international debut alongside the likes of Simon Easterby, Shane Horgan, Ronan O'Gara and John Hayes in a 44-22 victory over Scotland in 2000.
Super talented
The 36-year-old said O'Driscoll's try-scoring abilities, his 46 for Ireland is a national record, proved the finishing touch to a generation that revolutionised the team's brand of rugby.
"Brian and I were both meant to playing an Under-20s game the weekend he was first called into the national side, and obviously you could see at the time he was super talented and super skilful.
"Five of us made our debuts on the same day, a generation all coming through at the same time. We'd never really experienced losing, through age groups and then into provincial and European rugby.
"Put a guy like Brian outside that nucleus, able to finish things off and get points on the board, and everything snowballed. It really all had a huge effect: it was a huge turning point for Irish rugby I think.
"A guy of his stature on the field, but his leadership off it, when he speaks people listen, and that's a mark of a true leader when you come across them.
"I'm not sure how he's gone on so long with the condition of his body, he has absolutely no regard for his head or body, and as a fellow team-mate that makes you want to play with him, and follow him."