Ireland boss Joe Schmidt plans for a future without Brian O'Driscoll
Ireland head coach Joe Schmidt has been planning for Brian O'Driscoll's retirement for the past nine months.
Last Updated: 18/03/14 1:55pm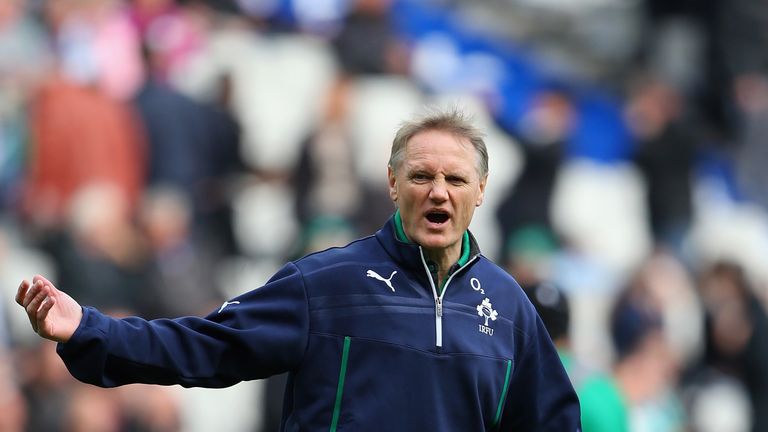 Schmidt wants to keep O'Driscoll close to the national set-up until the 35-year-old retires fully in the summer.
The 141-cap legend has already mentored Robbie Henshaw and Darren Cave in the Ireland squad, and Schmidt believes Ulster's Jared Payne will be a definite contender for the newly-vacant outside centre position.
New Zealand-born Payne qualifies through residency in November, and Schmidt admitted the 28-year-old will be in immediate international contention.
"To be honest the search for his successors started when I got the job, and he and I sat down," said Schmidt.
"There were pretty clear parameters about how long he would be available.
"We've been doing that for the last nine months really, because we knew this day was coming.
"We've tried to bleed him dry over the last six months, in camp sitting down with Robbie Henshaw and Darren Cave, talking through things as we've done them. We've tried to bleed as much as we can out of him.
"Brian would be the first to say that Les [Kiss] has brought a bit to his defensive game this season as well.
"We've certainly been watching players, and I think both Robbie and Darren have profited from the time they spent working with Brian.
"One of the real success stories as a group was how much those players brought.
"We'd be delighted if Brian stayed reasonably close to the group, because of the character he is as well as the on-field intelligence he brings to the group.
"I guess that depends a little on Sadie and Amy [O'Driscoll's daughter and wife] and other commitments he might have beyond the end of the season.
"I know right now his full focus will probably just be recuperating for a couple of weeks, then targeting several massive games coming up for his province."
Schmidt said "class player" Payne will do battle with the likes of Luke Fitzgerald, Fergus McFadden, Henshaw and Cave in the long-term fight for Ireland's now-vacant 13 shirt.
Patched together
"Robbie Henshaw was almost whistled in every week during the tournament, because we were very much patched together at points and certainly for that last game," said Schmidt.
"There were some players who were starting to creak, as I said.
"There are a few players who didn't manage to finish training that week.
"It did make preparation a little difficult, but those players knew they would be physically able to play, as long as we managed them carefully during the week.
"And thankfully that was the case. Robbie and Darren have been involved there.
"Guys like Luke Fitzgerald who might play there a bit for Leinster, and came on and did a good job there against the All Blacks considering he hadn't had a lot of time at centre.
"Those sorts of guys, we'll obviously keep an eye on as well. And Jared Payne would definitely be another guy in the frame.
"He's a class player, an experienced player and he has a natural intuition on the field.
"He's a very good decision-maker on the field, he tends to be able to avoid the first tackle or beat the first tackle.
"He's a little bit flexible in where he plays on the field, he's played on the edge or at full-back."