Gatland admits Henson 'risk'
Wales coach Warren Gatland has urged Gavin Henson to seize his World Cup chance after handing him a recall.
Last Updated: 09/05/11 6:53pm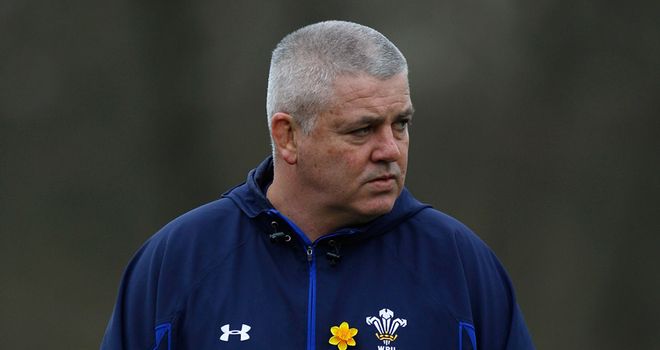 Wales coach Warren Gatland has urged Gavin Henson to seize his World Cup chance after handing him a recall.
Henson, who last played for his country during the 2009 RBS Six Nations Championship, features among a 26-man squad from which Gatland will select his team to tackle the Barbarians in Cardiff on June 4.
His call-up comes after the Toulon centre was suspended by his club while they investigated an altercation involving the 29-year-old and team-mates following a league victory over Toulouse in April.
But Henson then gained a second chance, being restored to Toulon's squad and appearing as a substitute during the defeat against Montpellier on Saturday.
Number eight Andy Powell, though, who left Aviva Premiership side Wasps by mutual consent last week after the club probed a London bar-room brawl that left him nursing a head injury, is not included.
Quality
"This game gives us an opportunity to get Gavin back into the fold," said Gatland. "He hasn't been involved for a while, and we want to have a look at a quality player.
"I am pretty sure the marketing team are pretty happy about it, although I haven't had that discussion with them. It (his selection) is definitely a rugby reason.
"What I would like to talk about with Gavin Henson is as a rugby player.
"I know there have been certain issues, but all I can say about Gavin is that when he has been in our squad you couldn't get a guy who has been more professional in terms of the training environment. He has played well for us.
"(Wales backs coach) Rob Howley rang him and spoke to him, and he's delighted to have an opportunity.
"I think he knows this is an opportunity for him to go to the World Cup. If we can get the best out of Gavin, I think it would be good for Wales.
"When you pick a squad, you might take the risk of picking someone like Gavin who hasn't had a lot of rugby, and you have got to be careful you don't have four or five players in the squad who haven't played a lot of rugby.
"We have been prepared to take that risk with Gavin to want to have a look at him back in the fold."
Henson took more than 18 months out of rugby since he last gained Test honours - initially while he recovered from injury - and then appearing on two network television shows.
He quit the Swansea-based Ospreys and had an injury-hit stint with Saracens before heading to join Jonny Wilkinson at Toulon, where his current contract is about to expire.
Wales leave for the World Cup in New Zealand in under four months' time. After the Barbarians, they face three August warm-up games against England (twice) and Argentina.
Powell, meanwhile, has missed out behind the likes of uncapped, but in-form, Newport Gwent Dragons number eight Toby Faletau, although Gatland has stressed he remains in his thoughts.
"We have got to recognise the impression Toby has made in the last number of weeks," added Gatland.
"It doesn't mean we are excluding someone like Andy (from World Cup contention). I am sure he will get an opportunity in the wider squad to perhaps come in and make an impression.
"For us at the moment it's looking at someone like Toby and giving him an opportunity to impress and do what he has been doing for the Dragons. Hopefully, he can do it on a bigger stage."
Zero tolerance
Henson and Powell have hogged the headlines for all the wrong reasons in recent weeks, and Gatland has underlined a "zero tolerance" approach within the squad.
Gatland said: "The last few campaigns, generally the behaviour has been excellent. The players have made the call themselves not to go into Cardiff after internationals, but stayed in the team hotel.
"We've got to educate the players. Once you put that Wales jersey on, even though you might be outside the Welsh camp and environment, you have a responsibility.
"For us, basically it is zero tolerance. You have to look at every situation. If someone is out at three in the morning and there is an incident, we will take a serious view on it.
"We do have a code of conduct, and the discipline within the squad during recent campaigns has been excellent.
"But we need to widen that and remind players in this modern world of cameras, phones, texting, Facebook and Twitter, the unfortunate thing is they are very much in the public eye."