Charteris ready for biggest test
Wales lock Luke Charteris said the squad was 'battle-hardened and ready' as they prepare to take on Ireland on Saturday.
Last Updated: 06/10/11 3:40am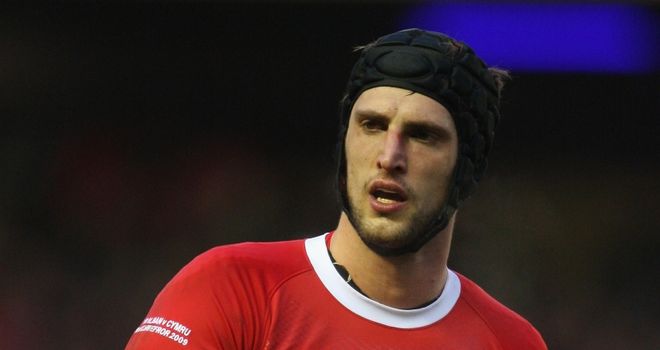 Wales lock Luke Charteris said the squad was 'battle-hardened and ready' as they prepare to take on Ireland on Saturday.
Charteris, one of the team's regular starters during the group campaign, is approaching the biggest game of his career with a World Cup semi-final at stake.
He and second-row partner Alun-Wyn Jones will tackle Ireland's revered lineout combination of Donncha O'Callaghan and Paul O'Connell in a clash that could go some way to deciding the result.
The lineout performed well in the group phase, notably against World Champions South Africa, giving Charteris cause for optimism.
Pressure
"We are very happy with the way the lineout has gone," he said. "We have been up against a lot of teams who have put pressure on us, but we've come out with real big statistics. Ireland will do a lot of work on us, but we will rely on our processes.
"The lineout is an area of the game that changes. They bring little rules in and you have to adapt, perhaps come up with new ideas to stay one step ahead.
"For a lot of us it is our first time at a tournament like this, and we are loving every minute of it.
"Four years is a long time in rugby - you never know what is going to happen next week, let alone four years down the line - and I think everyone treats this as their last World Cup.
"If you are lucky enough to get another one, it is a bonus.
"We were in such a tough group that we knew we were going to have to hit the ground running and there would be no let-up from the first start to hopefully the final.
"So far, it is as we expected. We've had four tough games and we've tried to raise our performances each time we have taken the field.
"Facing Ireland, we know we are battle-hardened and ready for it."
Quality
Charteris knows that Munster duo O'Callaghan and O'Connell will present colossal opposition and admits he and Jones will need to be on their best form to compete.
"They are both quality players," Charteris said, of the duel with Munster men O'Callaghan and O'Connell.
"O'Connell probably gets more of the limelight, but O'Callaghan is a class player in his own right. He does probably more of the donkey work.
"Both of them are really good players, and it will be a challenge to keep up with those two.
"I have not played with O'Connell, but how he leads is obviously a big part of his game. Playing against him, you see he's a good competitor.
"He will go up in the air on our throw, he does his homework on opponents, he is an honest worker around the field and he carries a lot for them as well."