Warburton dreams of Lions
Sam Warburton admits it sounds "crazy" for him to be talked about as a potential captain of the British and Irish Lions.
Last Updated: 16/11/11 3:15pm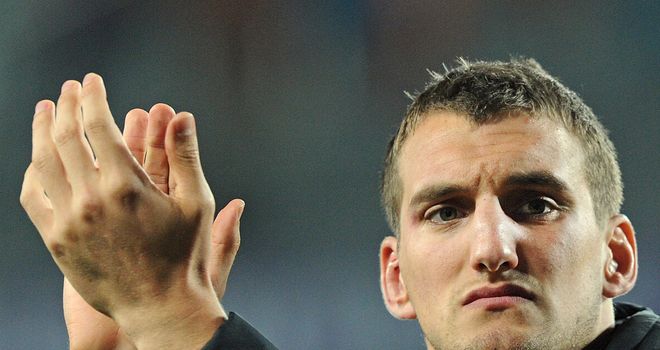 Sam Warburton admits it sounds "crazy" for him to be talked about as a potential captain of the British and Irish Lions.
The flanker has emerged as a contender to lead the Lions on their tour of Australia in 2013 after doing such a sterling job in charge of Wales at the recent World Cup.
Warburton, who was only made skipper when Matthew Rees was ruled out through injury, steered his country to the semi-finals in New Zealand, though his tournament came to an early end when he was sent off against France.
Speaking to Sky Sports News HD, the 23-year-old admits it would fulfil a childhood ambition if he was to be picked to represent the Lions.
Dream
"That sounds crazy to be honest," he said when asked about the possibility of being the next Lions captain.
"People have said that to me and initially I was like 'okay, calm down!'
"But I'd love to play for the Lions. That's something I've dreamt of since I was a kid. That's definitely one of my goals in my career."
"Two years away is a long time away, though, and a lot can happen, but obviously the chance to play for the Lions is a dream for any player from the British Isles."
Warburton has only just returned to action having been handed a three-week ban for his red card against the French for a dangerous tackle on Vincent Clerc, the incident occuring midway through the first half of a match that Wales would eventually lose 9-8.
The openside played for the first time for Cardiff in the Heineken Cup last Friday, helping the Blues clinch a superb 26-20 win away at Racing Metro.
"Obviously it was in the back of my mind that it was my first game since the red card," he admitted. "But it was a fantastic win for the club.
"Wins in France for Welsh regions are rare, so it's a massive boost that we won, especially because it was the first game of the Heineken Cup and that gives you momentum going into the next game.
"I came through the game injury-free and we won, so I'm really pleased.
"The ban felt a lot longer than three weeks. But I'm glad to be back playing now and I'm really looking forward to putting it (the red card) behind me."
Warburton's next international outing is likely to be against Australia on December 3 in a repeat of the World Cup third-place play-off clash.
Edwards staying
Off the back of their efforts Down Under, Wales received a further boost this week when Shaun Edwards agreed to sign a new deal with the WRU, ending speculation that he could join England's coaching staff instead.
"It is fantastic news from a Welsh point of view," Warburton said of Edwards' four-year contract that will run through to the next World Cup.
"I get on with Shaun very well and he's helped the defensive aspect of my game a lot.
"The fact that he's signed on for another four years, meaning we've kept the same coaching staff, is brilliant. I'm sure everyone is really pleased with that.
"Being an Englishman, I'm sure that job probably appealed to him. But I'm over the moon that he's stayed with Wales.
"Our record speaks for itself - we've got a pretty good defensive record in the World Cup, and that's due to Shaun. He's a great bloke to have around - very inspirational."