Warburton had captaincy fears
Sam Warburton has admitted that he was shocked by his promotion to Wales captain ahead of the 2011 Rugby World Cup.
Last Updated: 28/12/11 12:07pm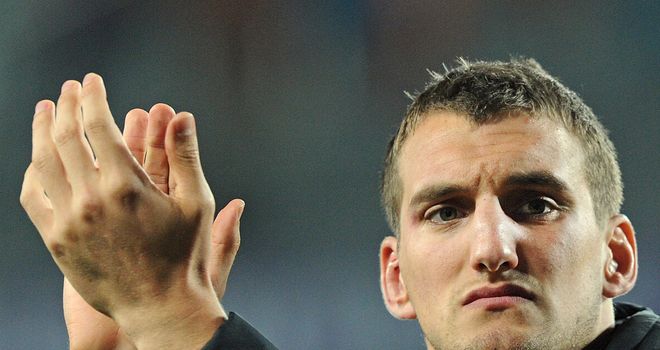 Sam Warburton has admitted that he was shocked by his promotion to Wales captain ahead of the 2011 Rugby World Cup.
The Cardiff Blues flanker, only a 22-year-old at the time, was given the armband for the tournament in New Zealand when Matthew Rees was ruled out with a neck injury.
And Warburton, who began the year with just nine caps to his name, says he had no idea that Wales coach Warren Gatland would trust him to skipper the side for such an important competition.
"I wouldn't have put a quid on it (at the start of 2011) - I didn't see it coming at all. I didn't have a clue I was ever going to be thought of as a captain," he told Sky Sports News HD.
"I thought, 'flipping heck, a 22-year-old being the captain for the World Cup, that's crazy'.
"I did panic a little about it and had a couple of concerns but I spoke to Warren and he reassured me and I have really enjoyed it ever since."
Red card
Wales reached the semi-finals before being edged out 9-8 by France despite playing with a one-man disadvantage for over 60 minutes after Warburton was controversially sent off.
Warburton was given his marching orders by referee Alain Rolland, who ruled he had committed a tip tackle on France winger Vincent Clerc, and says he is still haunted by the dismissal.
"If someone said to me, 'Rugby 2011 World Cup, what's your first thought?' It is the red card, which is disappointing really because there were so many other good memories," Warburton added.
"What kills me is the 'what if' question - you never know what would have happened.
"People say that Wales would definitely have won with 15 (players) but it's impossible to say and no-one will ever know.
"I felt like I let down all the players, almost every Welsh person would have been watching that game and I thought, 'what does everyone think now, have I thrown it away?'
"Obviously all those terrible thoughts go through your mind but since I've been home it's been unreal - I've had nothing but support.
Sympathy
"I've had people in the street coming up and hugging me, saying that they felt like they were my mother they felt so sorry for me when they saw me on the bench watching the game.
"That was so bad - having a camera in my face, waiting for my reaction for about 20 minutes."
However Warburton, in contrast to his coach and many of his team-mates in the immediate aftermath, insists that he only has himself to blame for the red card.
He said: "I don't blame them at all - Clerc just rode a tackle as he would and Alain Rolland was just going by the rulebook.
"The laws state it was a red card and that's not me being diplomatic, there are no bones about it.
"If you look at the law book and then look at what happened in the tackle, excuse the pun but I don't really have a leg to stand on."