Sam Warburton ready to accept British and Irish Lions captaincy for Australia tour
Sam Warburton reveals how he nearly turned down the Wales captaincy - but would have no hesitation in leading the Lions.
Last Updated: 26/10/12 5:37pm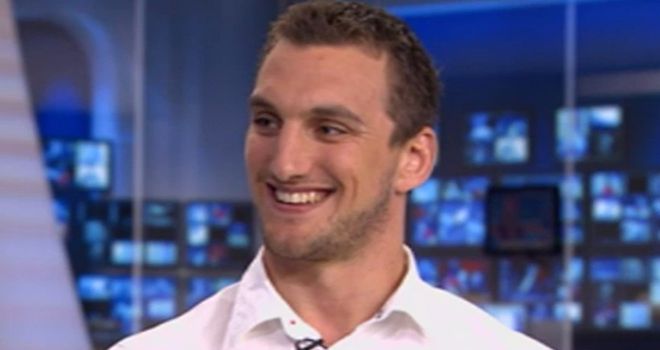 Talking to Ed Draper about his new book 'Refuse to be Denied', Warburton admits he had to think long and hard before accepting Warren Gatland's offer to become Wales' youngest captain since Gareth Edwards.
He eventually agreed and went on to lead his country to a World Cup semi-final in 2011 and a Grand Slam in 2012. If the same call comes from Lions coach Gatland ahead of the trip Down Under, this time he will have no hesitation in accepting it.
"A lot of people have been asking me that question," he said. "It is on the tip of everyone's tongue; fans, press, players.
"Every British player if they're honest about it would have it in the back of their mind, but the priority now is playing the autumn series and playing well for your club.
"But I don't think any player in British rugby would turn it down because captaining the Lions is the pinnacle of a players' career. Mind you, I thought that about the Wales captaincy - I thought I could never turn that down and I nearly did! But at the moment for me - touch wood - an injury free season has to be the number-one priority."
Warburton discusses the most famous event in his career to date at great length in the book - the moment when he was sent off after 18 minutes of the World Cup semi-final against France for a dangerous tackle. France went on to win the semi by a point, then lose in the final to New Zealand by the same margin.
"I used to think about the tackle all the time," he admitted. "Now I can go most weeks without thinking about it, so it's okay.
What-if
"That is the killer question. It's always that 'what-if' and you'll never really know. As somebody put it, effectively Wales were three points away from winning the World Cup. Obviously it doesn't work out that way at all, but it makes you realise how close it could have been and what might have happened."
But Warburton is already looking ahead to a tilt at the trophy in England.
"Our fans are already looking forward to 2015, there's no reason why we shouldn't go on and win the next World Cup and I think they think we've got a decent chance in that one.
"A lot of the players will be available in 2015, if you look at the ages a lot of the players were 24, 25 in that World Cup. So it was a successful campaign for us but we definitely want to kick on and make that next step."