Warren Gatland expects better from Wales against the All Blacks
Wales coach Warren Gatland is keen to see his side rise to the occasion when they face New Zealand in Cardiff.
Last Updated: 20/11/12 4:34pm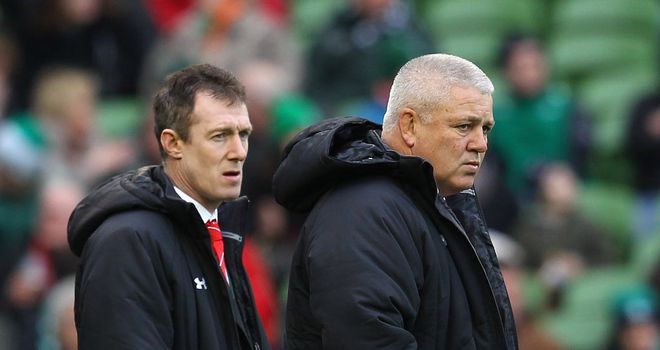 Gatland returns to the bench at the Millennium Stadium after Rob Howley led the side in disappointing defeats by Argentina and Samoa while he was away on Lions business.
With a reputation to restore, meeting the All Blacks might not be an ideal opponent, but Gatland hopes his much-changed side will be lifted by what should be a special atmosphere.
"No one is more disappointed than the players and the coaches with how things have gone in the last two weeks," Gatland said.
"But those supporters who have been with us over the last 18 months know, just as we do, that we are a better side than we have displayed so far, and we will be looking to show that on Saturday.
"This New Zealand team is one of the best rugby sides to have ever played the game, and probably the best All Blacks team ever, so it will be a privilege to be able to test ourselves against them.
"We've had a couple of disappointing weeks, but I think the benefit of that will be shown in the next couple of years in terms of what the players have experienced and coaches have experienced.
"Long-term, it will be good for the development of Welsh rugby. It will make people stronger and better going forward.
"We've set pretty high standards in the last 12 months, and I suppose that comes back to the expectation from everyone that we've performed to a certain level.
"We know we haven't done that in the last couple of weeks, so it is important we get that right for the next couple."
Special
"Memories of the Rugby World Cup last year and touring New Zealand the previous summer are still fresh in the mind of many of the players and staff.
"The hospitality shown and the way we were looked after made the experience especially memorable, and that makes it all the more special that we have the opportunity to face the best side in the world at the moment in Cardiff.
"I don't think it is a World Cup hangover or a Six Nations hangover. We have just gone through a bit of a dip.
"The players are well aware that some of their form has not been as strong as it possibly could be. There is a little bit of a confidence issue with one or two.
"Some of them are dealing for the first time with some criticism that has come from the outside. It has been quite personal for some of them, but they've got to learn to cope with that.
"They've had criticism within the media and some players have had a bit of abuse on Twitter. It's how you handle it and move forward. I think all of us will be stronger for the experiences of the last two weeks."