Matthew Rees: New Zealand date is ideal fixture for under-performing Wales
Despite losing five successive games, Matthew Rees says Saturday's Test with New Zealand is the ideal fixture for Wales.
Last Updated: 21/11/12 3:26pm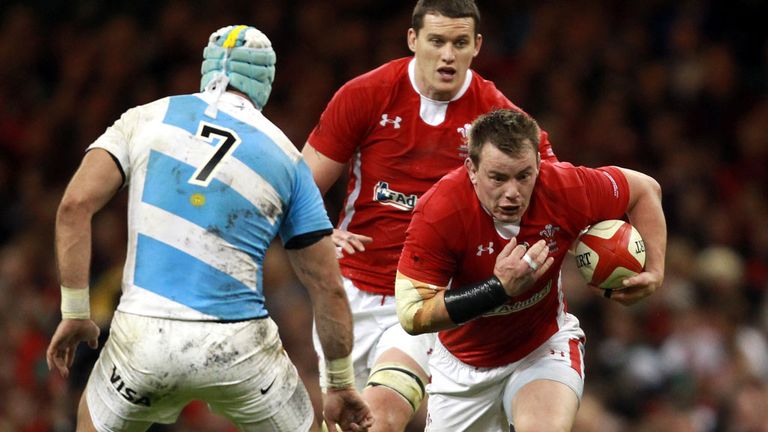 Wales are without win since clinching the Six Nations Grand Slam earlier this year, and plummeted to new depths last week by crashing to a home defeat to Samoa.
Hooker Rees has been on the losing side six times against the All Blacks, who have won their last 24 meetings with Wales, but he is relishing Saturday's contest at the Millennium Stadium.
"It's great for us to be facing the All Blacks this week," Rees said.
"We know if we play like we did in terms of our last two performances then we are going to be in for a tough day at the office and probably concede a lot of points.
"There are no illusions. We know that we've got to turn up on Saturday.
"We are a tight bunch who have been working hard together. You cannot fault the working week, but we know it's not about the working week.
"Obviously, it helps in terms of your preparation, but it's game day that counts and that is the most important thing this week."
New Zealand are hot favourites to extend their unbeaten run to 20 Tests in Cardiff, but Rees says Wales can take hope from their 2004 and 2009 meetings, where they finished with a score of winning and drawing.
"We haven't put in a performance during the past two weeks as a team and individuals, and it has been a bit of a wake-up call," said Rees.
"But we don't become a bad team overnight. We've had great success over the last 12-14 months and we've had a bit of a blip.
"When you face the world champions in your own back yard, as a player, a team and nation, if you can't get up for that then there is something wrong with you.
"We know how good the All Blacks are as a team and as individuals, but we know how good we can be as well.
"The whole All Blacks squad, no matter who they pick to play, they are all capable with ball in hand, they can all do a job in the contact area. That makes them the best team in the world.
"It is another step up in terms of what we have faced over the last two weeks and it is important for us that we start well in the first 10-15 minutes and make sure we take the game to them.
"We have been frustrated with ourselves in terms of the way we have played the last two weeks. We know we are a better team than that.
"We have got the best supporters in world rugby and we know everyone will be turning up on Saturday to see us perform. It's up to us to make sure that happens. The supporters deserve it."