Six Nations: Conor Murray confident in defensive ability of Ireland's wings
Conor Murray has warned Alex Cuthbert and George North that Ireland's wings will withstand the Welsh assault.
Last Updated: 02/02/13 3:39pm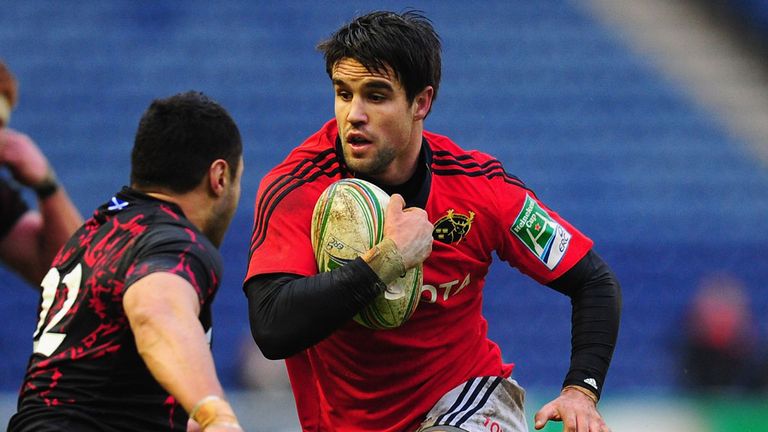 A daunting physical mismatch awaits Craig Gilroy and Simon Zebo in Saturday's RBS Six Nations opener with both players conceding at least three inches and two and a half stones to their adversaries.
In experience terms they are also trailing, possessing only four caps between them and making their championship debuts while Cuthbert and North have accumulated 29 Test appearances.
"Craig and Simon are lethal finishers and are the type of players who can pull out a piece of magic from nowhere," said Munster scrum-half Murray.
"They have the ability to get us going, put us on the front foot and light up a game.
"If it's Cuthbert and North they're up against, it will be a huge physical challenge.
"We'll have to make our first up tackles and I don't think Zeebs and Gilroy will shy away from that, they've been making their tackles all year.
"Obviously they came onto the scene because they were try-scoring wings, but their game has come under the microscope a bit more because now they're internationals and they've passed every test they've faced.
"Craig and Simon are very exciting players, but their basics are good too.
"Their defence has been quite solid all year. It's not just because of their attacking abilities that they are in the team."
'Interesting battle'
Murray also has his own duel to worry about as he prepares to face the vastly more experienced Mike Phillips for the third time.
A series of strong performances during the 2009 Lions tour identified Phillips as one of the game's finest scrum-halves, but Murray is confident he will trouble a player who is seven years his senior.
"Mike's someone I looked up to when I wasn't in the Irish set-up and I've taken a few things from his game," the 23-year-old said.
"It will be another interesting battle. Hopefully I've gained a bit more experience now and it will be a close one.
"The main reason people compare is because of our similarities in height and the way we look. But we're both physical scrum-halves."
The rivalry between Ireland and Wales, who possess a similar playing philosophy, has escalated throughout the Six Nations following a string of tight games and the fixture has become one of the most eagerly awaited in the calendar.
The Irish endured controversial defeats in the last two championship meetings, including a nerve-jangling 23-21 loss at Aviva Stadium in 2012, but it is the outcome of the 2011 World Cup quarter-final that rankles most of all.
Toppling the Grand Slam champions, who have lost their last seven matches, has turned into something of a crusade for Ireland, not least as it will ignite their own title hopes.
"We have lost to Wales the last three times we've played them, so we owe them one over there," Murray said.
"They probably feel the same because we had a few good tussles before I came into the team. They're great games and we're pretty familiar with each other.
"They won't be happy with how the autumn went, but they're champions and will be defending their title.
"There will be backlash and a much stronger performance than we saw in November. It's a huge game for both sides."