Ken Owens is confident Wales can still challenge for the Six Nations title
Ken Owens maintains Wales are full of belief that they can haul themselves back into the Six Nations title race.
Last Updated: 05/02/13 4:26pm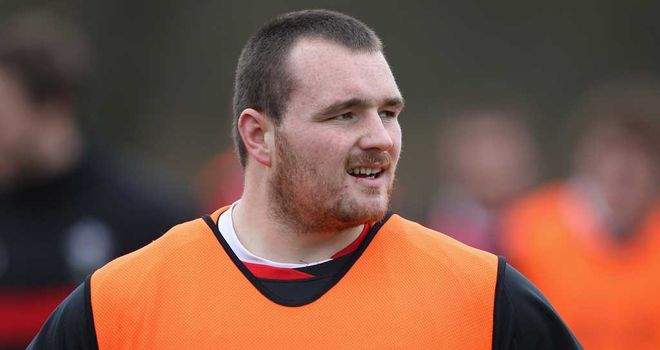 Wales travel to Paris for their clash with France on Saturday following their 30-22 defeat against Ireland, which crushed their hopes of repeating last season's Grand Slam success.
But the Wales and Scarlets hooker, who came on as a substitute for Matthew Rees last weekend, believes that Wales remain firmly in the hunt for silverware.
"We can't win the Grand Slam, but we can still retain the title, so there is still a lot to play for," he said.
"Get a result this weekend in Paris and we are back in the championship race. It was a terrific opening weekend to the Six Nations. No country is out of it, and no team is running away with it.
"We have to train hard and smart this week and transfer that to the pitch on Saturday night. If we do that we will, hopefully, get the result we want in Paris."
A gripping opening weekend of Six Nations action saw 16 tries scored across three games, highlighted by Italy stunning pre-tournament title favourites France 23-18 in Rome.
It effectively means that Wales will now either face a French team fired up to make amends, or one so deflated that another defeat for Les Bleus beckons.
"Italy played very well," Owens added. "They stopped France, kept hold of the ball and played at quite a high intensity.
"Perhaps France did have a slight off-day in certain aspects, but Italy stopped them from playing.
"Perhaps we are lacking a bit of confidence here and there. We came off the back of a disappointing autumn series, and it took us 20-30 minutes to get into the match against Ireland.
"Once we started getting into it, you could see the whole side growing and the confidence coming. When we stick to our pattern and game-plan, we can get stuck into teams - it's all about starting well."
Wales' record in Paris is poor. They have won just three times in the French capital since 1975, and lost the last three encounters by an average scoreline of 27-15.
"They have a great pack - there's no hiding away from it. They went toe-to-toe with Italy in a good battle to watch," Owens added.
"We have to have confidence in our ability. We definitely don't fear France, and it's going to be a battle, one that we are relishing.
"We spoke, coming into the Six Nations campaign about putting right the wrongs of the autumn campaign. We were confident we had prepared well (for Ireland) and were in the right frame of mind, but we didn't get into it early enough.
"They (France) have got strength in depth, but we can compete and we can't be afraid of them. We beat them last year.
"It's still all to play for. If you bounce back and get a result, you are back in it straightaway."