Jamie Roberts calls for Wales to go on the attack in Rome this weekend
Jamie Roberts says Wales cannot afford to rest on their laurels when they take on Italy in the Six Nations on Saturday.
Last Updated: 23/02/13 3:29pm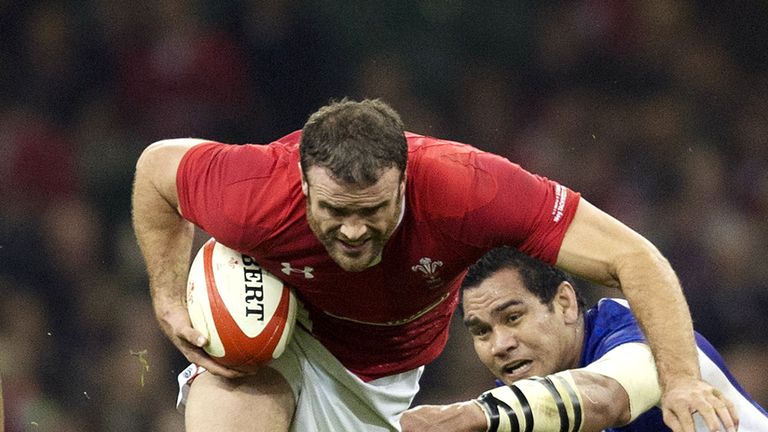 Wales head to the Stadio Olimpico buoyed by their win over France in Paris two weeks ago, but they know the Azzurri will provide them with another tough test, having beaten France themselves in the opening fixtures.
He also hopes the French will do the rest of their rivals a favour by beating England at Twickenham, a result that would leave the destination of the trophy wide open.
"England are in a strong position with two out of their three remaining games at home," he said. "I would like to think the French will turn them over at Twickenham on Saturday.
"But we are still very much in with a shout. If we had lost last weekend it would have been different, but now we are one win from two and everything hinges on the next couple of games.
Tough
"Italy will be tough, but we will be ready. We know we need to raise the bar again.
"They run hard and tackle hard, and if you don't close them down they cause you problems. So first and foremost, our defensive effort needs to be at least as good as the effort in Paris.
"I would like to think that after getting the win we will go out and play to win. In Paris, it was probably a bit of a case of two teams trying to make sure they didn't lose.
"I have had stick from the boys (over the TV interview), but anyone who knows me knows I can get quite emotional. It was a combination of things - the pressure we had been under, the fact it was my 50th cap and the fact that I had seen players and coaches so happy in the changing room.
"It does get emotional, I'm a bit of a big baby, actually! But seriously, when you train hard and you lose it hurts, and then when you finally crack it - and in a place like Paris - it can have a deep effect on you.
"It was a rather alien feeling after the last 10 months, but that day was up there among the best days I've had in a Wales shirt. It is important we harness the feeling we had after the game and have that desire to repeat it. The changing room afterwards was a special place.
"After you lose that many on the bounce and the pressure sets in, it snowballs. You can get into the habit of losing, but we built on the promise we showed in the second half against Ireland.
"It wasn't the prettiest of games. It was like playing with a bar of soap at times it was so greasy, but our defence was magnificent. We had that desire to put the tackles in and top them playing."