Alex Cuthbert believes Wales forwards deserve much credit for Six Nations glory
Alex Cuthbert praised the Wales forwards for laying the platform for their Six Nations triumph on Saturday.
Last Updated: 17/03/13 11:00pm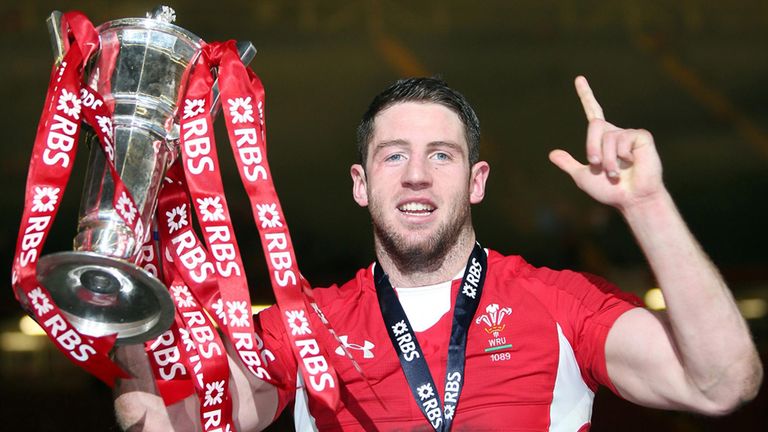 The Cardiff Blues winger touched down twice in Wales' 30-3 drubbing of England to take his try tally to an impressive seven in nine Six Nations games as Wales were crowned champions for a second successive season.
Cuthbert's second-half double - he touched down twice in 10 minutes - underlined Welsh dominance and sent England spinning to their heaviest Six Nations defeat since 2007.
"I was fortunate enough to get on the end of two tries, but I have got to give full credit to the forwards - they were unbelievable," he said.
"They have been unbelievable the whole tournament. They are the bunch of guys who have won us the tournament.
"I am just glad I took my opportunities. I said in the week it would come down to a couple of chances and whoever took them, took them. I'm thankful we took them."
Asked if it was the best Wales performance he had been part of, 18 times-capped Cuthbert added: "I would have to say yes, definitely.
"The forwards were on fire - they sort of bullied England. I felt in command from the start, and it was just a matter of time before we broke through and took our chance.
"We were clinical. We had two or three chances in the second half and we took everything, especially the (Dan Biggar) drop-goal which secured things."
Cuthbert scored the only try of last season's Grand Slam-clinching victory over France in Cardiff.
But although Wales did not complete a clean sweep this time around, courtesy of an opening weekend defeat against Ireland, their sense of achievement was not diminished.
"It feels like a bigger achievement than last year," Cuthbert said. "Last year against France it was quite tight and it was just us in the game, whereas this time England were striving for the Grand Slam and we were striving for the championship, which made it such a mouth-watering match.
"Winning 30-3 against an England team that has been pretty exceptional the last few months - beating New Zealand and winning every game in the Six Nations - it's a great feeling.
"I think we have the capacity to go on from this. We've gone from the highs of winning that Grand Slam last year, and then the lows of the summer and the autumn.
"But we've come back from the lows and we are on a highs now, so hopefully we can stay there. We are full of confidence and I think we would play anyone at the moment.
"We knew what we had to do in the game. They (England) were the ones talking it up, I guess. We kept ourselves to ourselves. We knew what we could do and we delivered on the day, so it shows we are deserved champions.
"The last 10 minutes of the game were unbelievable. We were 30-3 up, and we were winning free-kicks and penalties from the scrums. The fans were loving it, and the players were too.
"It was just such a great feeling. The boys were sort of shouting to the crowd, and they were getting involved as well. I thought last year would be hard to beat, but this year is definitely better."