IRB World Junior Championship: Wales U20s scrum-half Rhodri Williams ready for England
Wales U20s' Rhodri Williams is anticipating a tough match against England in Sunday's World Juniors Championship Final.
Last Updated: 22/06/13 10:35am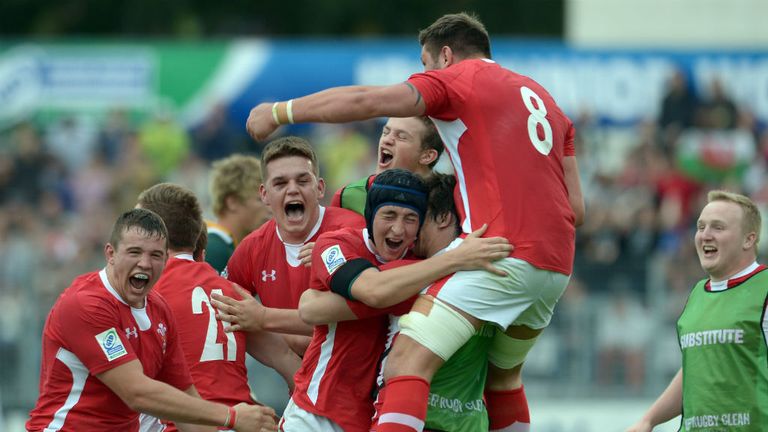 Wales' youngsters made it to the final courtesy of a dramatic late comeback against the defending champions South Africa in their semi-final. Trailing 17-11 with just minutes remaining, Ashley Evans touched down in the corner and Sam Davies' conversion gave Wales an 18-17 win.
As pleased as the side were with the victory, Williams insists that they have been fully concentrated on the final with England in the days since.
"It is a brilliant achievement to reach the final but we are already very focussed on that next challenge which is to win on Sunday," he said.
"We are not carried away with our progress to date. We had one day of recovery and then we were straight back into our analysis and preparation for the final."
Determined
England booked their place in the trophy decider with an historic 33-21 triumph over New Zealand, the first time they had ever beaten the Baby Blacks, and Williams admits Wales know better than most the strength of this England team.
"We are not over-confident - England beat us convincingly in the Six Nations - so we won't be getting ahead of ourselves," said the 20-year-old.
"However, we have shown in this tournament that we have the determination to dig in right to the end and win matches. We are going to need at least the same amount of commitment to beat England on Sunday."
Indeed, the Scarlets half-back is adamant that Wales' Six Nations defeat to England has driven the win on in the months since and will do so again when they face them again at Stade de la Rabine.
"When we lost to England in the Six Nations, we were distraught and as Ellis (Jenkins, captain) has said throughout this campaign, we don't want to feel like that again. That thought will give us even more motivation to win on Sunday," added Williams.
"Without taking anything away from England - they were excellent on the night - we didn't get certain things right when we played them in the Six Nations. We have built as a group during this tournament and shown we can adapt to different styles of opposition.
"Our defence has also been good, which will be important on Sunday."
One additional factor Williams believes could play a part is the prospect of increased Welsh backing in the stands.
"Support from back home has been brilliant. Some families haven't been able to come out until now but a lot more are coming for the final so that will give the boys an extra boost," he commented.
"England are a great side, they are very fast and physical and they stopped New Zealand playing out wide in the first half. It should be a really good game on Sunday, we can't wait."