Six Nations: Wales head coach Warren Gatland calls for players to make history
Wales head coach Warren Gatland accepts that his players must break a 'hoodoo' if they are to win the RBS Six Nations.
Last Updated: 24/01/14 7:05pm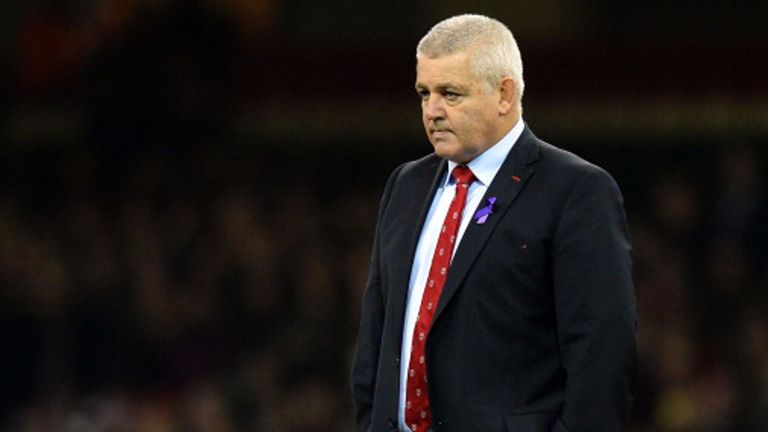 On the last four occasions, the season after a British and Irish Lions' tour, France have lifted the championship and while Gatland's team remain the book-keepers favourite to complete a hat-trick, history suggests differently.
France completed a Five Nations clean sweep in 1998 following the Lions' successful South Africa tour, then repeated that feat in 2002 with another Grand Slam before again winning the title in 2006 and 2010.
But Wales captain Sam Warburton is relishing this challenge which starts at home against Italy on February 1, followed by a trip to Dublin to face with Ireland seven days later.
Underdog
"We always look forward to the Six Nations, it's what you're measured on," Warburton said.
"This is my fifth championship now, and I love playing in them. We have a chance for three in a row and to create history.
"People will talk about the three in a row, but we just take it one game at a time. We are concentrating on Italy.
"I have always said I would rather be a favourite than an underdog. All the players have worked extremely hard over the past few years to get to that level.
"It is nice people are saying on the outside that Wales are favourites, but no-one is underestimating how tough it will be to win the Six Nations again.
"I don't think for a second the players will ever become complacent."
Wales' Six Nations success story is in stark contrast to their autumn Test series results - they lost all four matches - and while Gatland's reign boasts an impressive record of three Six Nations titles, two Grand Slams, they have only one victory in that six-year period against either Australia, New Zealand or South Africa.
That one win came at Australis's expense in 2008, while they have not beaten New Zealand since 1953 and South Africa for nearly 15 years.
But the flanker is convinced that this will change soon and insists that once they win one match, others will follow.
"Every autumn campaign we go into we always say 'this year is the year,' but it hasn't happened yet," Warburton said.
"I am sure it will happen. We've come too close too many times and worked too hard as a team. Once it happens once, it will happen again and again."
World-class
Warburton is battling to be fit for the Italy game, having not played because of a shoulder problem since Wales lost to Australia on November 30.
If he does not make the Italy clash, though, it is anticipated that he will return against Ireland, but Warburton said the decision to play will ultimately be decided based on what is best for the team.
"I haven't ticked the contact box yet, so until I have done that, I won't be ready to move on to the next stage," Warburton said.
"The specialist said a while ago that I was probably looking towards the end of January, which has been pretty accurate.
"We will sit down next week and do what is best for the team, really.
"We have got the nice luxury of having a world-class openside flanker in Justin (Tipuric). It will be a decision based on what is best for the team."