Six Nations: Warren Gatland aiming to put down World Cup marker
Warren Gatland believes Sunday's clash between England and Wales will provide an early pointer for the 2015 World Cup.
Last Updated: 05/03/14 10:04pm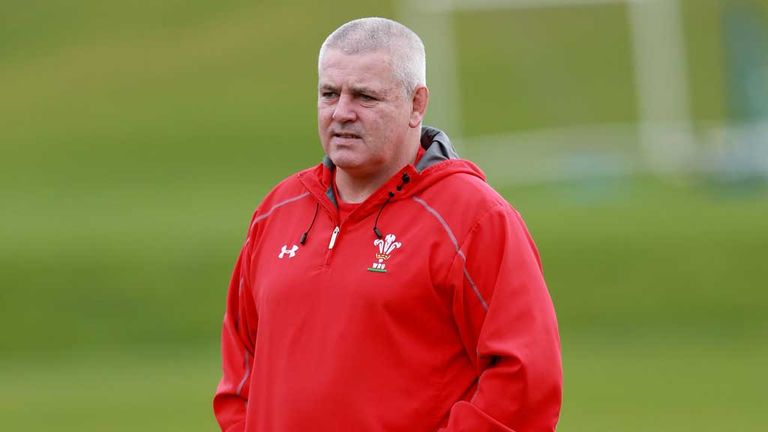 The game will keep the winner in the Six Nations title race and effectively end the hopes of the loser, but Gatland also has an eye on next year's big tournament with England, Wales and Australia all drawn in the same pool.
"It's a big game psychologically for both teams because we have to go to Twickenham next year as well. That's going to be even bigger than this Sunday," said Gatland.
"We have two big games at Twickenham in the World Cup against England and Australia.
"If we can win on Sunday, that is four in a row (against England) and if we then win the Six Nations as well, you start having a few doubts.
"The (Wales) starting XV won't be too far off 1,000 caps when it comes to the World Cup, and it won't be too far off its peak in terms of the age profile."
This is the 125th meeting between the two fierce rivals and the countries are currently locked on 56 wins each, with 12 draws.
Wales, though, could have a mental edge after swamping England by a record 30-3 scoreline in Cardiff last season, giving Gatland's men the title and destroying English Grand Slam hopes.
"They (England) look like a young team that is playing with a little confidence and self-belief, and that's what makes them dangerous," Gatland said.
"Part of my job for this week is to build the players up to have the self-belief that we are good enough to go to Twickenham and win.
"It has definitely been a bridge too far for a number of Welsh players in the past, but we are not thinking like that. If we play well enough on the day then we are good enough to win.
"They (England) are all saying they have learnt some pretty harsh lessons from last year. All the talk is that the boys have turned into men and they have grown up and learned. Time will tell, won't it? We will see on Sunday.
"It's a big Test for all of us. These big occasions are what we all play and train for and put in the effort that people don't see.
"You get excited about playing in a full stadium with a lot at stake. We are really excited about going up there on Sunday as underdogs."