Six Nations: Sam Warburton ready for battle
Ahead of Sunday's Six Nations showdown between England and Wales at Twickenham, Sky Sports caught up with Sam Warburton to discuss media hyperbole and facing his fellow Lions...
By Ben Hampshire | @BH92
Last Updated: 07/03/14 8:27am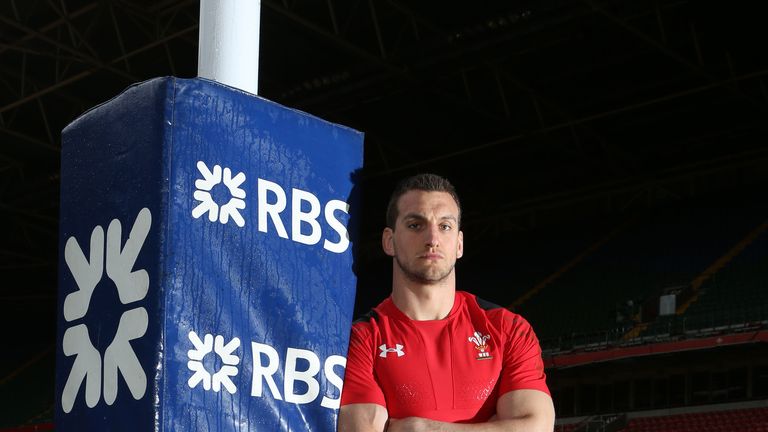 The defending champions make the 140-mile journey across the M4 this weekend with the Six Nations hanging in the balance, as four teams enter the fourth round level on points at the summit.
England made the reverse journey on the final day of the 2013 tournament with the crown at stake and were handed a Millennium Stadium lesson by Wales, who prevailed 30-3 on that Cardiff spring evening.
However, Warburton is quick to admit "a lot can happen in 12 months" and believes the victorious Lions tour to Australia - which ended the home nations' 16-year wait for a Test series win - has formed a unique bond between the players.
"I loved it," he told Sky Sports from the Millennium Stadium, where he was talking about research RBS has commissioned into the values of rugby. "It was probably one of the best rugby experiences I have ever had.
"I enjoyed that tour and I think everybody felt privileged to be a part of that tour.
"To do it with Irishmen, Englishmen and Scotsmen, you've got that bond forever because you've been through it together and I'm looking forward to catching up with some of the guys after the game.
"Last time we played each other at Twickenham I shared a drink with Chris Robshaw and the players often do that."
Although they lost their Six Nations curtain-raiser to Ireland, Wales have gathered momentum with victories over Italy and France, but Warburton warned experience does not necessarily result in success.
"People always talk about experience and caps but I've been part of Welsh team which has played against more experienced sides and won," he recalled.
"A lot of people look at how many Lions Wales have got and how many caps we have in our squad but a lot of that becomes irrelevant when you're in the pressure cooker of Twickenham.
"Just because you haven't got as many caps doesn't mean you can't beat a team, I've been on the other end of that, but it comes down to who plays best on the field."
Occasion
In two weeks of build-up to Sunday's clash, all the focus has been on the rich heritage of the Anglo-Welsh rugby rivalry, one that spans three centuries, but Warburton insists as a player it's important to detach yourself from the hype.
"The players love the occasion and the buzz from the crowd, but as a player you have to take yourself away from that, you can't get caught up in too much of the emotion," he claimed.
"We have a job to do and you enjoy it after the game, hopefully if you've won, but we have to take ourselves away from all that."
Yet as a passionate follower of Tottenham, the 25-year-old son of a London-born father understands rivalry means something entirely different when you're stood in the terraces.
"I am being a bit of a hypocrite," he admitted. "Because say when it's Tottenham against Arsenal for example, I love that rivalry, I talk about it with my mates and we have plenty of banter.
"Seeing it from a players perspective though you just want to keep your head down, keep quiet and stay focused on the game.
"I love going to London, I've played rugby there, watched football, go there shopping and my dad was born there so I love London."
Warburton acknowledged the history between the two nations but claims their victory in Cardiff last year will have little influence on Sunday's outcome.
"The rivalry that already exists between Wales and England is a great rivalry," he said.
"That's what makes the games, the atmosphere is great to play in front of, the crowd love it and the players definitely feed off that.
"Obviously, you want to prove yourself as a team, if you lose to an opposition, the next time you play them, you are desperate to win.
"A lot can happen in 12 months and I don't think victory over England in the 2013 campaign will have much bearing. England are playing at home and there are quite a few personnel changes too."
Comfortable
Wales welcome centre Jonathan Davies back to their starting line-up after spending four months on the sidelines after tearing a pectoral muscle and Warburton admits his return bolsters their defensive capabilities.
"George (North) has done a great job at 13 but 13 is probably one of the most difficult positions in defence and Jon (Davies) is obviously very comfortable in defending that 13 channel," he added.
"From a defensive point of view, he's one of our defensive leaders and it will be great to have him back, he's a world class player."
Talismanic lock Alun-Wyn Jones also features in Warren Gatland's run-on side after missing Wales' victory over France at the Millennium Stadium and the captain looks forward to having a key performer back at the forefront.
"It's not just since the Lions tour, he's been a rock for Wales ever since he got his first cap," Warburton claimed. "He's only 27 or 28-years-old and he's on 70-odd caps already, that speaks volumes of how good he is as a player.
"To have Alun Wyn Jones back, he's a natural leader, it's great to have him back in the pack and he helps me out on the pitch.
"It takes the weight off my shoulders when it comes to making decisions because he's such a good decision maker as well. There are a lot of guys in the dressing room who have a lot of experience, most players have an input into the game, it's never one player.
"As captain, in a way, I just have to point at the posts to take the three points. So many guys have an input into a game, obviously it ends with the captain, but they influence the match as much as I do."
This interview was given by Sky Sports to support the RBS rugby values campaign. See how teamwork and belief helped Wales become the 2013 champions in the Defining Moments Wales film at www.rbs6nations.com/definingmoments.