Six Nations: George North faces fellow Saints
Wales travel to Twickenham on Sunday to face England with the Six Nations hanging in the balance and Sky Sports discussed the rivalry with George North, who claims to be a lover, not a hater...
By Ben Hampshire | @BH92
Last Updated: 08/03/14 10:27am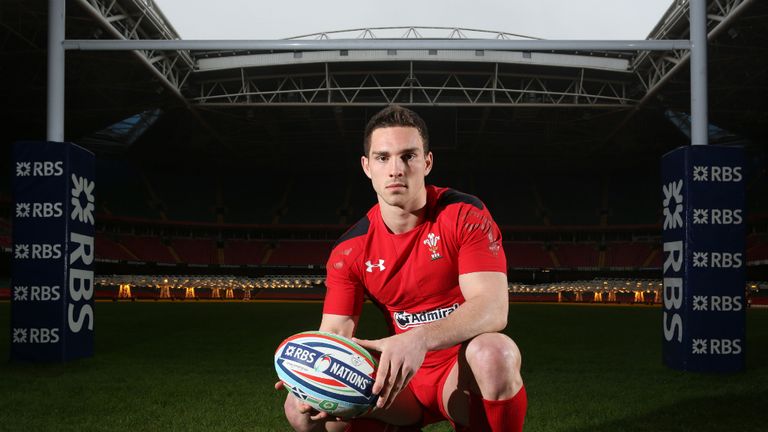 Sunday's showdown will see North win his 39th Wales cap as the Kings Lynn-born flyer continues to enjoy what, in his modest opinion, is a "busy time".
"It's been a massive 18 months for me," he told Sky Sports from the Millennium Stadium, where he was talking about research RBS has commissioned into the values of rugby.
"It's just been busy more than anything I guess but it's been a great year-and-a-bit for me."
During the last 18 months, not only has he made the Wales No 11 jersey his own, but North also earned his first British and Irish Lions call-up; scoring on debut before touching down in the decider against Australia as Warren Gatland's men ended a 16-year wait for Test series victory.
All of this; yet still only 21-years-of-age.
Not that you would guess speaking to him. During the prolonged build-up to England's match against Wales at Twickenham on Sunday, mentions of "hatred" have emerged from the Pennyhill Park camp but a mature North was keen to ease the air of hostility.
"Hate is a strong word," he claims.
"I don't really hate anyone, I'm quite a loving person really but obviously there is the rivalry that comes with England and Wales.
"In recent years people have thrown the hate word around but for us it's a big game, there's a great rivalry but it's a challenge all the boys are looking forward to on Sunday."
The Lions success of 2013 was made all the more special by the contributions made by all four home nations.
Funny feeling
Despite admitting lining up against his Lions colleagues will be a strange experience, North understands there is a job to be done but insists he is looking forward to reconnecting with his comrades.
"It's like anything really, when you come and play for Wales from the regions, it's always funny playing against your team-mates and people you know very well," he added.
"I don't think it will be any different at the weekend.
"Obviously we played with a lot of the boys on tour but at the end of the day we've got a job to do.
"I'm sure when it's all done we'll shake hands and have a good catch up as well."
Last year's meeting between the nations carried significant weight, as England travelled to Cardiff for a winner-takes-all Six Nations decider.
North believes the Welsh display, which beat England 30-3 was one of their best, but was equally as quick to acknowledge a lot, can happen over the course of a year.
"I thought the performance we had was great," North says. "It was outstanding from our point of view.
"But it's a new year, a new game and obvious England are on form, they've had a great Six Nations so far.
"From our point of view, we're taking last year out of the way, it's new year and a new challenge for us."
However, it is England who boast the home advantage this term and Stuart Lancaster has placed emphasis on building a fortress in London.
So much desire has Lancaster to build a stronghold of Twickenham, he has enlisted the aid of Matt Parker - the former head of marginal gains at British Cycling - who has revamped the changing rooms, tunnel and ensured every inch of the stadium oozes pride for the red rose.
"Twickenham is a tough place to go," North admitted. "It's England's fortress, they call it HQ.
"It's a big place for them. It's a great stadium and always a great atmosphere.
"But, we don't go there thinking it's a hard place to go, we have to be at our best to have a chance of winning."
When North last lined up against England he was still a Scarlets player; since then, the flyer has embarked upon the challenge of Premiership rugby with Northampton Saints.
Sunday will see him line up against four club mates; Dylan Hartley, Courtney Lawes, Tom Wood and Luther Burrell, who North is delighted to see flourishing.
"He's a great player," said North of the England centre. "He's been playing fantastic for the Saints and he was a bit unfortunate to not get a chance in the autumn series but now he's got a chance in the Six Nations he's absolutely flying.
"He's going well and I'm really happy for him, he's my mate and it's great to see him playing well."
Wales are bolstered by the return of North's former Scarlets team-mate Jonathan Davies at centre this weekend and having filled his former colleague's berth against France, he is delighted to have him back at the fore.
Outstanding
"It's a huge boost for us," North exclaimed. "Obviously Jon is an outstanding player.
"I've had to do his job last week and it's a tough one for me, I don't think I did his jersey justice in a way because he's just an outstanding player and him coming back adds another string to our bow."
Although North earned the plaudits of many for his versatility in deputising for Davies, he is relishing the opportunity to return to his regular left wing role.
"That's where my strength is," he claims. "I know my game there and it's great to have that chance back on the wing.
"Foxy [Davies] is great centre and I would never keep him out of his jersey but I'm a winger through and through.
"It's good from my point of view, I know I can cover the centre for future reference."
Sunday sees England vie for their first Triple Crown since 2003; while victory for Wales would leave them on the brink of an historic Six Nations hat-trick, but North insists the Welsh camp remains focused on the task in hand.
"Obviously we'll be keeping an eye on things, the way this Championship it's going to be busy either way," he said.
"From our point of view, it's all about preparing for Sunday, it's an important for us because with one game left we want to ourselves up.
"It's never over till it's over. We won it last year on the last game so from a Wales point of view, we'll do our best on Sunday and then we'll do our best on the Saturday following."
This interview was given by Sky Sports to support the RBS rugby values campaign. See how teamwork and belief helped Wales become the 2013 champions in the Defining Moments Wales film at www.rbs6nations.com/definingmoments.