Six Nations: Robin McBryde saw Wales are braced for backlash from England on Sunday
Robin McBryde is confident Wales will thrive on the adversity awaiting them at Twickenham on Sunday.
Last Updated: 08/03/14 2:52pm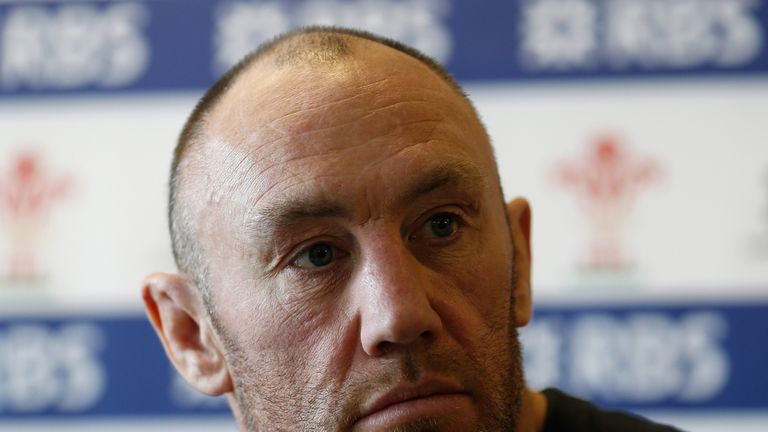 England suffered a humbling 30-3 rout in Cardiff last year but have been installed as odds-on favourites to prevail against the reigning champions in a pivotal RBS 6 Nations title showdown.
McBryde is wary of a backlash from Stuart Lancaster's men but knows the psychological impact victory would have ahead of their meeting in the group stage of the 2015 World Cup.
"England are a better team than last year and any bad experience, as long as you learn from it, can be turned into a big positive. That result in Cardiff could work against us," he said.
"The relics of last year's fixture will give them more fuel as they want to right the wrongs of that game.
"I'm sure those memories will be burning in their minds and they will be looking to make a statement against us.
"England have grown in maturity and stature with experience. They stood toe to toe with New Zealand in the autumn, beat Australia and had a great win against Ireland.
"Then there is the Twickenham factor - they are obviously working on a few little things behind the scenes to build that factor up.
"We'll be up against it, but the hottest fires forge the toughest steel. We have to embrace this occasion because it won't get any easier at the World Cup.
"It will be good to see how we perform in the face of adversity. Whatever way it goes it will put us in a good place come next year."
Expectation
Wales powered back into title contention with a 27-6 victory over France, a result that provided redemption for being thrashed 26-3 by Ireland in Dublin two weeks earlier.
After two lopsided results, forwards coach McBryde believes England will provide the most accurate gauge of just how good his team are.
"It's positive to see the performances against France. We haven't become a bad team overnight after all and it was a step in the right direction," he said.
"The expectation now is to deliver a performance following that France game.
"There are still question marks over how good we actually are, considering how poor France were against us.
"This is the second dip of the litmus paper and it will be a far sterner test. England at Twickenham.... they're building up some momentum and were unlucky to lose against France."
Flames
The flames burning beneath the 124th meeting between the teams - the ledger is tied at 56 wins apiece with 12 draws - have been fanned by a claim made by England wing Jack Nowell that Wales "hate us".
McBryde, however, insists a rivalry dating back to 1881 does not need building up.
"It's a game of rugby and a game we all love because of the attritional side of it. It's not touch, it's not football," McBryde said.
"It's a game where we test each other out. Everyone has had their fun in their build-up to this game in regard to what's been written in the papers.
"But when the whistle goes, it's 15 versus 15. We have experience and hopefully we can bring that to bear. Hopefully it will be a good advert for the Six Nations."