Six Nations: Wales to query Twickenham scrums with IRB
Wales will contact the International Rugby Board to seek "clarity" over scrums following their defeat to England.
Last Updated: 11/03/14 5:23pm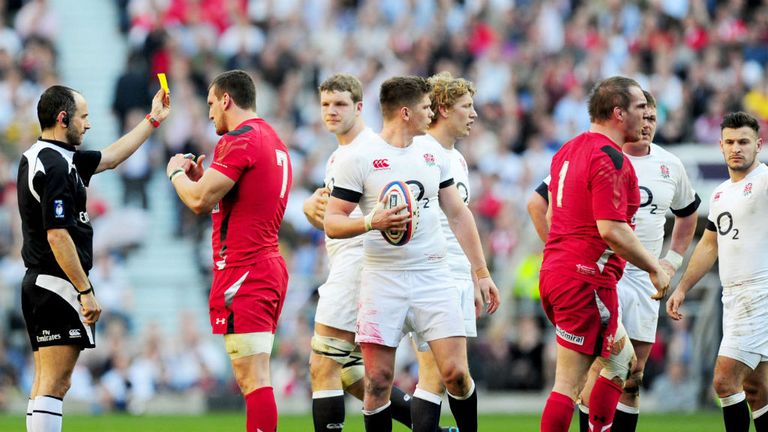 The Welsh are unhappy with referee Romain Poite's interpretation of the rules, which saw prop Gethin Jenkins sin-binned during their 29-18 defeat at Twickenham on Sunday.
Wales assistant coach and forwards specialist Robin McBryde said: "I am not concerned with the scrum. I am concerned that we have obviously fallen the wrong side of Romain Poite.
"As far as I see it, it was a hugely-competitive area of the game. There was only one re-set (scrum).
"We were quite dominant on a couple of scrums, and I felt we should have benefited from the decision.
"The unfortunate thing is that one man has been singled out, and everyone could see the dejection on Gethin's face when he came off as to regards he didn't know what else he could have done.
"I will be sending an email to both Romain and Joel Jutge (IRB referees chief) for clarity, because it is important in how we move forward, learn the lessons and let's make sure we are looking at the same things that Joel is looking at.
Dominant
"We were dominant, we were going forward in a number of those scrums, yet the decision went against us.
"Certain players are highlighted, and their name has been bandied about with regards to what referees should be looking at. I don't necessarily agree with that because each scrum is different.
"You can't go into a game with a pre-conceived idea, and I hope that wasn't the case on Sunday.
"It is just something we have got to get better at doing in managing the referee and making sure we have got absolute clarity with regards to what he is looking at.
"Scrum, lineout, contact area, those are the things that really you have got to be at your best, especially when you come up against a team who are gunning for you, as are all the teams.
"If you are champions, you know you are going to have to be at your best week in, week out, and unfortunately we haven't been."