Six Nations: Jamie Roberts hits back at criticism of Wales
Jamie Roberts has hit back at suggestions Wales were too predictable in their defeat to England on Sunday.
Last Updated: 11/03/14 11:00pm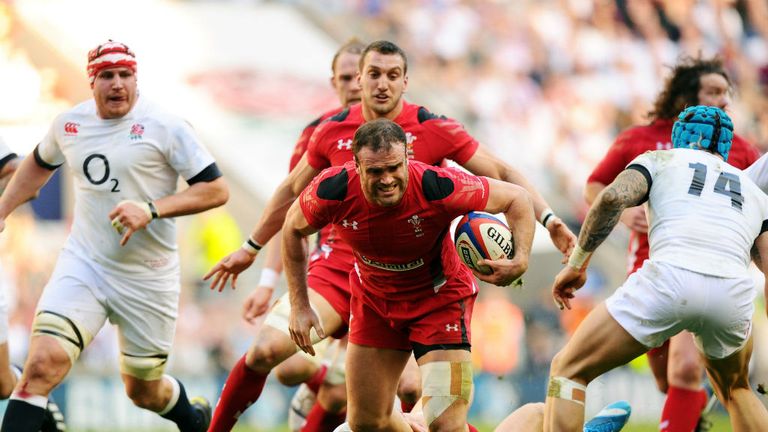 Wales were well beaten at Twickenham, losing 29-18 and they were widely criticised for employing a kicking game whilst their hosts were, in comparison, adventurous in attack.
Wales must now regroup for next Saturday's final Six Nations game against Scotland, while England target a victory over Italy in Rome that could see them crowned champions.
"You watch the game back, and what we've done in training and practised we haven't done it to the best of our ability on the weekend, and that is annoying," Wales centre Roberts said.
"We created problems in England's defence and we just haven't chosen the right option when we've been presented it, and we all have to shoulder the blame for that.
"I am not pointing any fingers at anyone else. I was to blame, myself, on many occasions on the weekend.
"We have a very experienced coaching team that has been around a long time. Our game-plan, people will say it's quite predictable, but it definitely is not.
"The way we train, we like to stay unpredictable on the field, but we took the wrong options on the weekend at times. It's tough, but we stick with it.
"We have to put trust in the coaches, put trust in what we are trying to do on the field and ultimately execute better as a team. There is a lot of thought that goes into it. The planning is huge."
Wales missed a high number of tackles, and the way they allowed Danny Care to skip over unchallenged from a tap penalty for the first try left visiting fans open-mouthed.
Soul-searching
Roberts says the buck stops with the Wales players, not the coaches.
"A lot of us players, myself included, have been round a while and it's not about coaches pointing the finger any more," he said.
"It is about us players putting our hands up and admitting we were poor and searching deep within ourselves to raise our game for this Saturday.
"We are the guys on the field, ultimately, and we are the guys who are not quite there at the moment, and we weren't quite there on Sunday.
"It has been an up and down championship, to say the least. We have been poor away from home. We haven't brought an intensity to our game (away from home) that we have done at the Millennium Stadium, which is disappointing.
"To lose a game of that magnitude against England, it's a very hard place to be. We were completely devastated after the game. There is no other emotion to describe it for all the players and the coaches, and I am sure all the fans as well.
"Obviously, we can't win the championship this year, and that hurts massively, especially when you have put so much effort in.
"I don't think we did ourselves justice in a lot of parts of the game (on Sunday).
"We turned the ball over quite a few times, which wasn't great, and then a few of us, myself included, have kicked the ball away in the opposition 22. It hurts when you look back at that.
"It will hurt for a while, no doubt about that. It's easy watching on the telly, I suppose. In the heat of the moment I made that decision, and you live and die by those choices on the pitch.
"It was a poor one, as were many of the decisions by a lot of us on the pitch. I just have to get back to training this week. You train harder, you look forward to your next game."