Rugby World Cup: Sam Warburton focused on next year and Olympics for sevens
Wales captain Sam Warburton talks to Sky Sports about Olympic sevens and next year's 15-man World Cup.
Last Updated: 21/05/14 10:33pm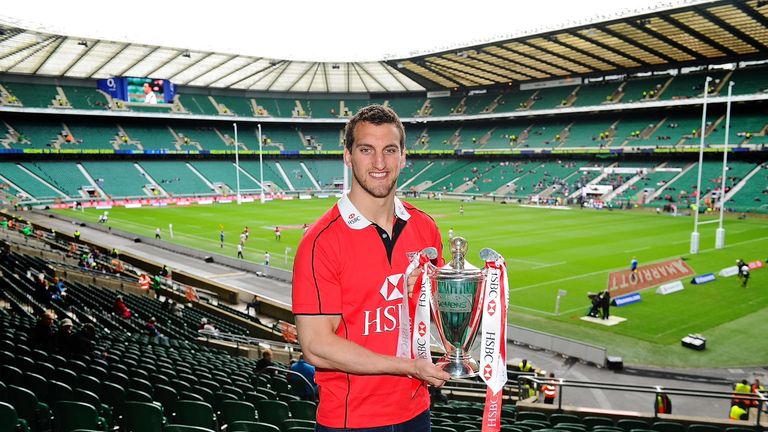 Sevens continues to become a more popular form of the game, and Warburton experienced an amazing atmosphere at Twickenham recently for the Sevens World Series event, and was impressed by everything both on and off the field.
"I've really enjoyed it, it's the first World Series event I've been to in a while so it's nice to go down and watch it," Warburton told Sky Sports. "It's a brilliant atmosphere, especially when England play, there's a load of noise and it's a completely different environment to a 15s game.
"Because it's played globally now there's a lot of different teams playing and it's all very competitive. With the Olympics just around the corner, that's something which every sevens player would want on their rugby CVs so it's very exciting to have these events around the world and it makes a lot of people play the game which is great."
The prospect of Olympic gold is something for all sevens players to aim for, but the game is also used to help blood younger players who have a future in the 15-man game, although the demands are vastly different.
Demands
"There are massively different demands for the 15s game and the sevens game, there's so much more running in sevens it's a completely different game. Often sevens players will lose half a stone playing the sevens circuit and coming back to 15s they have to gain all that weight back.
"Wales use it a lot, a lot of the guys are fast-tracked through the sevens circuit and they end up getting full senior caps. The skills they learn playing sevens includes fitness and speed, special awareness, offloading skills and handling skills - it's great for their future development as well."
Having a combined England, Wales and Scotland team for the Olympics could provide some selection issues, but Warburton likened it to the Lions.
"You want it to turn into a really prestigious event, something very special bringing those three nations together. Obviously with the Lions it's very special and I'm sure it will be the same with the Olympic sevens as well.
"It's very entertaining which is the most attractive thing about it, we've surprised a lot of people who don't really watch it, it's fast very open, very exciting so I think it'll go down very well.
"And the players can only benefit from this experience, exposure to big crowds, large TV audiences, it's great for them to get that as they wouldn't get that at the lower level in 15s game so it's a great benefit for them to play on the sevens circuit and make the Olympics."
World Cup focus
Warburton will miss Wales' trip to South Africa this summer through injury, and although he won't really enjoy being a spectator, he'll be watching his team-mates as attentions turn to focusing on next year's World Cup campaign.
"We go to South Africa for a two-Test tour and we've got a game before the first test which we'll use to give some of the younger guys a game. Obviously I won't be on that tour but I'll be looking forward to watching it from home and see how the guys get on.
"I'm quite an aggressive spectator actually. I'm usually more calm and collected when I'm playing but when I'm watching the TV I revert back to the fan I was when I was a teenager watching Wales play and I go mad at the telly so I often find it quite difficult watching.
"Attentions turned to the World Cup as soon as the Lions tour finished to be honest, as in rugby we work in two-year cycles really so it goes Lions tour, World Cup and so on at the very top level.
"In the front of your mind you want to do well for your club and earn as many international caps as you can but in the back of your mind you do also want to reach the World Cup.
"This season I don't think players will be thinking about it too much, they'll be probably looking forward to a bit of a break then getting a full pre-season. When you start the new campaign that's when your attentions start to turn towards the World Cup."
Sam Warburton is an HSBC Ambassador. HSBC's investment in the Sevens World Series is helping to open up the world of rugby to new audiences. For more information and exclusive content follow @HSBCrugby