Saint-Andre rings the changes
France coach Phillippe Saint-Andre has brought in six new faces for the final RBS Six Nations match against Wales in Cardiff.
Last Updated: 12/03/12 6:31pm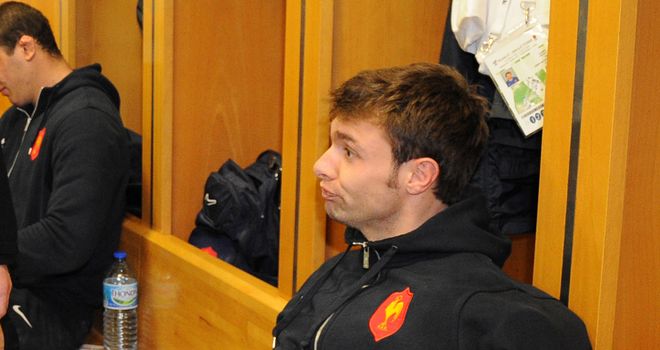 France wing Vincent Clerc will not travel to Wales for his team's final RBS Six Nations clash after sustaining a shoulder injury against England.
Clerc dislocated his shoulder in the 37th minute of Sunday's narrow defeat at the Stade de France and will not be fit to take part in the clash at the Millennium Stadium next Saturday.
His absence is one of six changes to the squad that met up before the England match, with Alexis Palisson taking Clerc's place in the party.
With any hope of victory in the tournament dashed by the 24-22 loss, coach Phillippe Saint-Andre has rung the changes for the final match.
Lock Julien Pierre, flanker Fulgence Ouedraogo, scrum-half Dimitri Yachvili, centre Florian Fritz and uncapped full-back Jean-Marcellin Butin are the other new faces for the World Cup semi-finalists.
Veteran former skipper Lionel Nallet looks like he has played his last Test match while scrum-half Julien Dupuy, centre Maxime Mermoz and winger Julien Malzieu have also been axed.
There are injury doubts over Thierry Dusautoir (knee), Imanol Harinordoquy (knee) and Julien Bonnaire (elbow).
"It's sort of a page that's turning," said Saint-Andre. "We would have liked for the veterans to have an exceptional jubilee Saturday in Cardiff. This isn't the case.
"I wanted to really thank Lionel Nallet regarding his spirit, his professionalism.
"I was lucky to coach him at Bourgoin and again in the France team. He knew that we had a sort of a deal together - if we played a final at Cardiff, he would have continued the adventure. Unfortunately the adventure finishes here.
"The younger players learned a lot from him from his commitment to the group and his professionalism as a first team player and substitute."
Forwards:
David Attoub (Stade Français), Vincent Debaty (Clermont), Nicolas Mas (Perpignan), Jean-Baptiste Poux (Toulouse), William Servat (Toulouse), Dimitri Szarzewski (Stade Français), Yoann Maestri (Toulouse), Pascal Papé (Stade Français), Julien Pierre (Clermont), Julien Bonnaire (Clermont), Imanol Harinordoquy (Biarritz), Fulgence Ouedraogo (Montpellier), Louis Picamoles (Toulouse), Thierry Dusautoir (Toulouse, capt)
Backs:
Morgan Parra (Clermont), Dimitri Yachvili (Biarritz), Lionel Beauxis (Toulouse), François Trinh-Duc (Montpellier), Jean-Marcellin Buttin (Clermont), Wesley Fofana (Clermont), Florian Fritz (Toulouse), Alexis Palisson (Toulon), Clément Poitrenaud (Toulouse), Aurélien Rougerie (Clermont)