Mathieu Bastareaud ready to take two years of frustration out on Six Nations rivals
After two years in the international wilderness, Mathieu Bastareaud is back in the France squad.
Last Updated: 28/01/13 3:08pm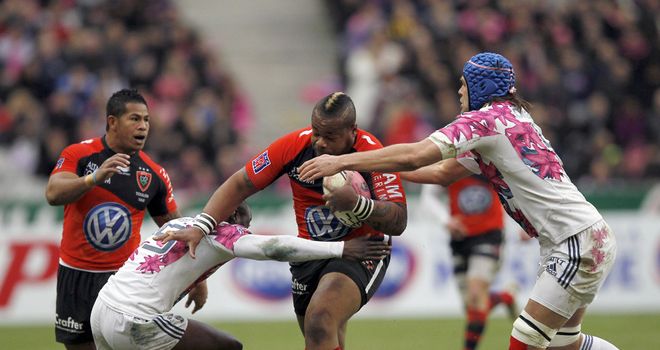 Bastareaud made his name with Stade Francais, and was tipped for greatness, a human wrecking-ball in midfield.
That is until he sparked a diplomatic incident on the tour of New Zealand in 2009 when he returned home to the team hotel in the early hours in a frightful mess and claimed he had been beaten up.
He had made the whole thing up, and had simply fallen off a table in a drunken stupor. It was the beginning of a dreadful slide for the young centre, who needed psychiatric help in the aftermath.
He was recalled for the 2010 Six Nations, when France won the Grand Slam, but was then promptly dropped and his form spiralled downwards again as he struggled with weight problems and fitness.
His move from Stade to Toulon has been the making of him. His coach, Bernard Laporte, warned the 24-year-old that he had to shape up or give up, and he took the first option.
Bastareaud, a cousin of Spurs defender William Gallas, has been the perfect foil to Jonny Wilkinson and Matt Giteau at Toulon, the Top 14 leaders' battering ram in midfield.
He is not a prolific try-scorer but he carves out countless scores by taking out any number of defenders and creating the space for others.
If you are 60 minutes into an exhausting and bruising Six Nations encounter against France, the last thing you want to see is Bastareaud limbering up on the sidelines, ready to come off the bench - he is the ultimate impact replacement.
He has plenty of competition for a place in midfield, with Wesley Fofana, Maxime Mermoz and Florian Fritz also vying for two starting places - but Bastereaud will surely get his chance at some point and when he does, he will be taking two years of frustration out on his luckless adversaries. Ouch.