Philippe Saint-Andre says he will remain in charge of France until at least 2015
France coach Philippe Saint-Andre says there is no chance of him leaving his post.
Last Updated: 10/03/13 1:54pm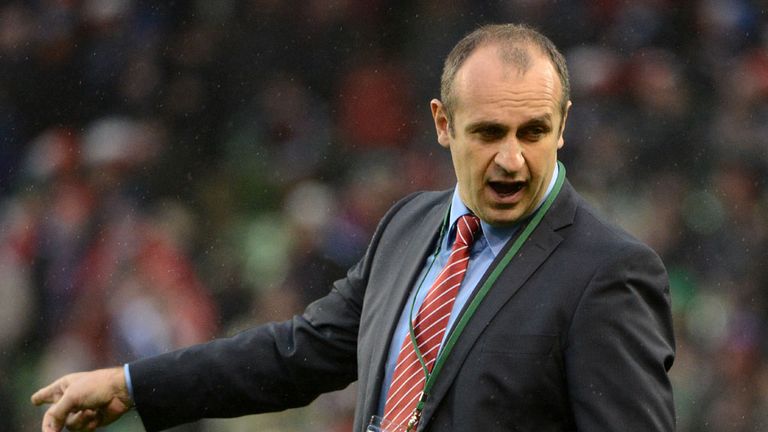 Having opened the tournament with three defeats, the France got off the mark with a 13-13 draw in Ireland on Saturday but, realistically, they need to beat Scotland at home next week to avoid finishing with the wooden spoon for the first time since 1999.
However, Saint-Andre says he will be staying on and hit out at the media, believing remarks he made on Thursday were taken out of context in order to suggest he would quit if France had lost to Ireland.
"I will of course, as is my nature, assume total responsibility and take the blame for the campaign," said Saint-Andre.
"However, I am here till 2015 and I will not be leaving, quite the contrary.
"I would ask of you not to take three words from a sentence and give them a meaning that is not intended.
"The Federation and the committee director gave us a target to prepare for 2015 and we will continue to work towards that objective.
"I take the responsibility because I have always done that, I have never tried to shift it on to others in my career.
"You cannot murder the players now when, in November, you made them out to be better than they were. However, even in the worst case scenario, they are not as bad as people are saying they are.
"We were always very restrained about where we were, we knew that the margin between victory and defeat is very narrow."
Saint-Andre also had scathing words for the former France coach Bernard Laporte, who has criticised him recently.
"My policy, having been France captain and played for France, has been to never criticise the French team," said Saint-Andre.
"Others obviously have different principles. I have certainly learnt over this Six Nations who my real friends are."