Mixed feelings for Gatland
Warren Gatland was left frustrated by referee George Clancy's interpretation at the breakdown, despite seeing his side crush Italy.
Last Updated: 11/03/12 10:08am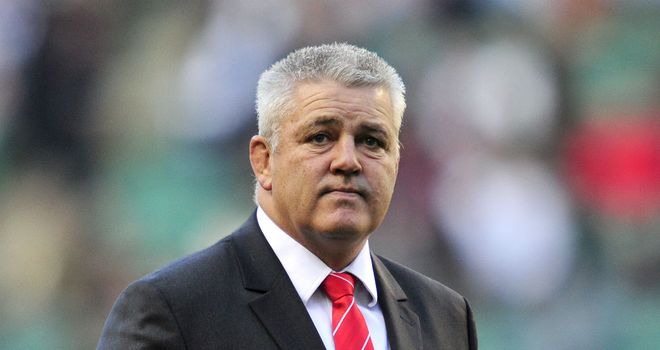 Warren Gatland was left frustrated by referee George Clancy's interpretation at the breakdown, despite seeing his side move to within a win of the Grand Slam with a 24-3 victory over Italy.
Even though they were the dominant side Wales ended on the wrong end of the penalty count, conceding 13 to 12, and Gatland said: "I thought there was a lot of intent by us but it was a bit frustrating because the flow of the game was not there.
"We were not allowed to get quick ball and the breakdown was a bit of a mess.
"We will take the win but if a team has that much possession and territory and loses the penalty count 13-12 you have got to be frustrated about that. We weren't allowed to get the momentum going.
"It's probably just about trying to get the message through to referees, let's be positive to the team that is trying to play positively and let's reward them for that.
"I don't think everything has to be 100 per cent to the letter of the law because there is so much interpretation.
"That's why I am personally pretty frustrated because it was difficult for us. They came with a limited game and didn't allow us to function.
"That's what rugby is about and there is nothing illegal about doing it. You just hope that too many teams don't win by doing that."
Despite his frustrations Wales will face France at the Millennium Stadium looking to once again claim the crown of the best side in Europe.
"It won't be difficult for us to get through this week at all," Gatlan added. "The guys have got their heads on. These young players are just taking these things in their stride.
Hype
"The players are well aware about the huge amount of hype but I would like to think they are in a good place and that the Welsh public are pretty happy with them."
Assistant coach Rob Howley added: "The next week will be the same as the last three weeks. We have to get our preperation right.
"We have trained particularly well over the last three or four weeks and the word Grand Slam hasn't been mentioned up until this point.
"It will be interesting to see how France go against England tomorrow but to be honest we will concentrate on ourselves."
For Italy, whose only points came from Mirco Bergamasco's early penalty, it was a fourth-straight defeat under coach Jacques Brunel.
But the former Perpignan boss, who revealed that replacement half-back Tobias Botes had suffered a dislocated shoulder, was pleased with the Azzurri's defensive display.
He said: "The spirit we have shown today was completely different than against Ireland in Dublin, especially in our defensive performance against what is a very powerful Welsh side and we kept ourselves in the game almost throughout.
"But it was a weaker game from an attacking point of view especially with the line-out as we made too many mistakes there to launch any good attacks."