Italy boss Jacques Brunel recalls his big funs for New Zealand match
Italy boss Jacques Brunel has made eight changes to his team for their clash with New Zealand on Saturday.
Last Updated: 15/11/12 4:34pm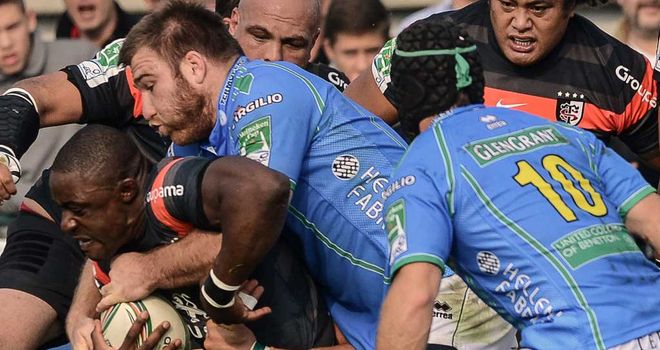 Four of the changes to the team, which beat Tonga 28-23 last weekend, are in the Azzurri pack where lock Francesco Minto will make his debut.
He will partner Treviso team-mate Antonio Pavanello in a new-look second row, and in the back-row openside Simone Favaro returns in place of Robert Barbieri.
Leicester tighthead Martin Castrogiovanni starts in place of Lorenzo Cittadini.
In the backs Luciano Orquera will start for the first time under Brunel at fly-half, replacing Kristopher Burton.
He will partner Edoardo Gori - who comes in at No 9 in place of Tobias Botes - at half-back.
Wing Mirco Bergamasco, who missed the Tonga match with a muscle problem, returns to the left wing and on the right wing Giovambattista Venditti, who was on the bench last week, will start.
"New Zealand are the Everest of rugby," Brunel said. "We are climbers who have to scale the most difficult mountain without fear, ready to brave the cold and the bad weather. Otherwise, we might as well stay calmly on Mont Blanc."
Italy have never beaten New Zealand in 12 previous attempts and Brunel added: "For us it will be an important game to find out what our level is compared to the strongest team in the world, whether we are far from them or close.
"The All Blacks are the stiffest test to show us in which direction our work needs to go."
Italy: 15 A Masi, 14 G Venditti, 13 T Benvenuti, 12 A Sgarbi, 11 Mirco Bergamasco, 10 L Orquera, 9 E Gori, 1 A Lo Cicero, 2 L Ghiraldini, 3 M Castrogiovanni, 4 A Pavanello, 5 F Minto, 6-A Zanni, 7-S Favaro, 8-S Parisse
Replacements: 16 D Giazzon, 17 A de Marchi, 18 L Cittadini, 19 Q Geldenhuys, 20 Mauro Bergamasco, 21 R Barbieri, 22 T Botes, 23 L McLean