Paul Derbyshire, Gonzalo Garcia and Paolo Buso have been recalled by Italy
Italy coach Jacques Brunel has recalled Paul Derbyshire, Gonzalo Garcia and Paolo Buso to the squad.
Last Updated: 10/01/13 2:58pm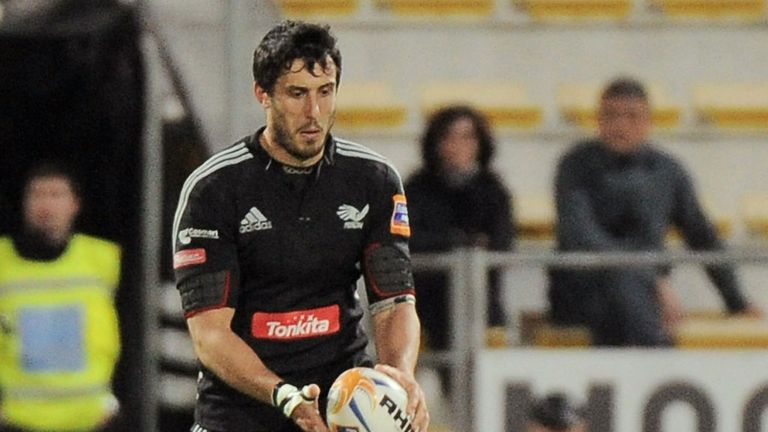 Brunel has otherwise stuck with the players who beat Tonga 28-23 in November and then produced spirited performances in losses to New Zealand (10-42) and Australia (19-22).
Flanker Derbyshire won the most recent of his 16 caps under former coach Nick Mallet in October 2011 and that month also featured centre Garcia's last appearance for the Azzurri.
Buso, a 26-year-old full-back, has played just 40 minutes for Italy and that came back at the 6 Nations of 2008.
The squad also features plenty of promising youngsters, such as Benetton Treviso winger Tommaso Iannone and his teammate Francesco Minto, a back rower, who both showed promise in November.
The Italians will be without winger and place kicker Mirco Bergamacso due to a long term injury, as well as former skipper Marco Bortolami.
Brunel said: "We've mainly kept faith with the November squad who showed a lot of promise and, although we've brought in younger players with one eye on the future, the only big changes are because of injuries.
"Derbyshire has international experience and is a player who interests us a lot.
"Paolo Buso is young and he is a flexible player who has played at fly-half but also at the back recently. We'll see what he can contribute to this team."
Italy beat Scotland to avoid the wooden spoon in last year's 6 Nations and their 2013 campaign will begin against Brunel's fellow Frenchmen in Rome on 3 February before they face Scotland at Murrayfield on the following Saturday.
Forwards: R Barbieri, M Castrogiovanni, L Cittadini, A De Marchi, P Derbyshire, S Favaro, J Furno, L Ghiraldini, D Giazzon, Q Geldenhuys, A Lo Cicero, F Minto, S Parisse (captain), A Pavanello, M Rizzo, R Vosawai, A Zanni.
Backs: T Benvenuti, T Botes, K Burton, P Buso, G Canale, G Garcia, E Gori, T Iannone, A Masi, L Mclean, L Orquera, A Sgarbi, G Venditti